Street food business granted licence to start running pop-up events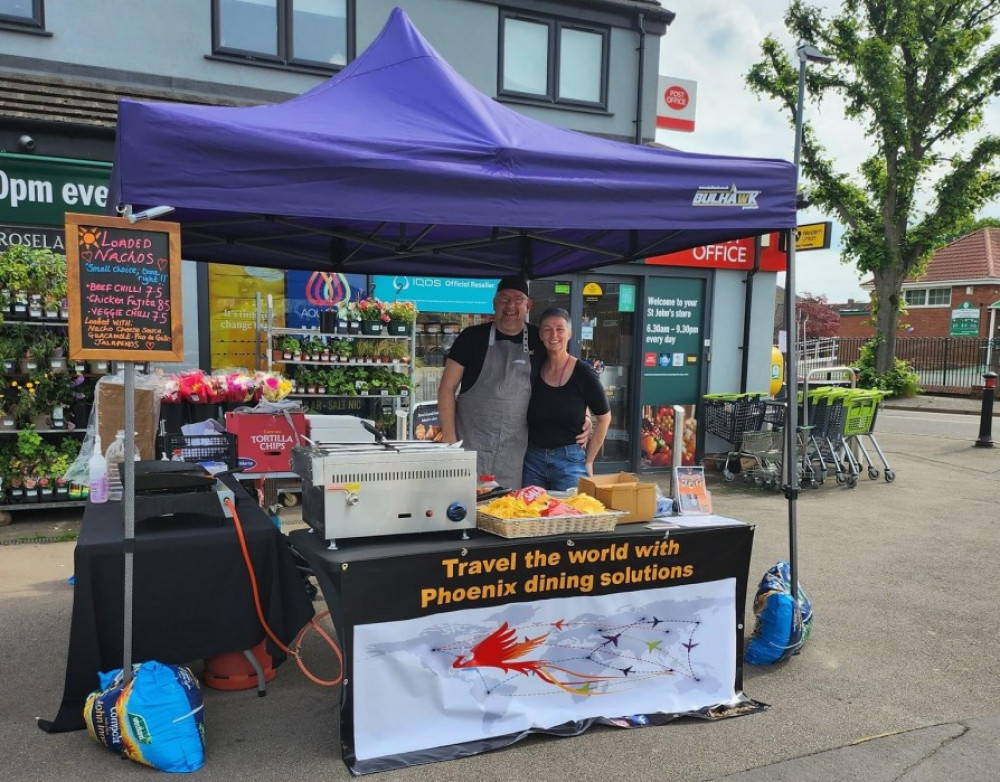 Phoenix Dining Solutions running a pop-up stall outside St John's Budgens (image via licence application)
A local catering business which started life delivering roast dinners during the pandemic, has been given a licence to run pop-up events across Warwick district.
Phoenix Dining Solutions applied for the licence from Warwick District Council (WDC) after being invited to run a food event at St John's Budgens and realising extra permissions were needed.
Having started doing the home deliveries in 2020, the company then began offering private catering, before branching out to the local food festivals with its Korean BBQ and Mexican street food.
And now the family-run business has been given a licence for street food trading to add "another string to its bow".
"We don't want to be working during the night," business owner Anthony Stevens told WDC's licensing and regulatory panel last week.
"We have no intention of pulling up somewhere to provide after-clubbers with food, because there is no private area for that.
"We just wanted to apply for this to get another string to our bow.
"While we can keep doing the food festivals where the street traders licence is automatically included in the pitch fees, it gives us an opportunity to pop-up with the land owner's permission."
Warwickshire County Council's highways team had raised concerns that the licence would allow Phoenix to simply pitch up on the side of a road for the day without considering the impact on local roads.
But Mr Stevens said the business would only operate on private land and trade within the opening hours of the associated business.
"I do all the food, my wife does all our social media and sorts all our bookings," he added.
"A post appeared on Facebook saying 'would anybody be interested in doing a pop-up on private land at Budgens Post Office'.
"We enquired and we found out we needed a street trading licence.
"We only want to operate on private land that has been authorised by the land owner."
Councillors were in agreement that the application was reasonable and would not cause any issues for local roads or for residents.
Cllr Dominic Harrison said: "I recognise this is more than just a question of licensing.
"At the moment with the touring type licence it is too restrictive - this falls somewhere between a touring and a static licence because of the hours.
"To me the hours seem reasonable.
"And the important thing is there is a demand and you are doing this on request, not just randomly turning up somewhere."