Kenilworth theatre announces details for 2022 pantomime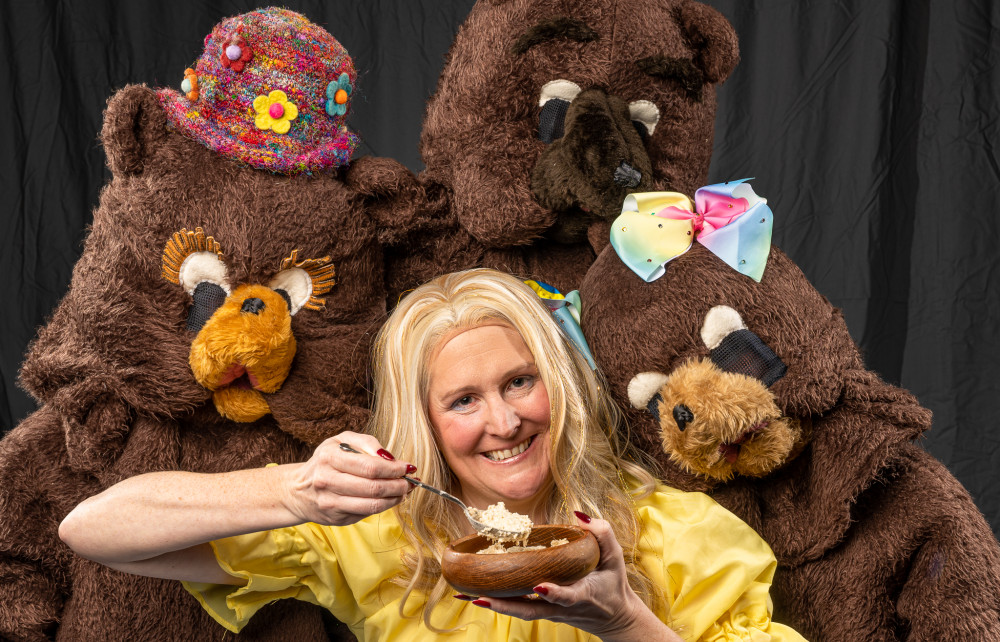 Is it too hot? Too cold? Or just right? Sam Harris as Goldilocks (centre) with Daddy, Mummy and Baby Bear (image supplied)
The Talisman Theatre has announced details of this Christmas' much-anticipated pantomime.
With a choice of matinee and evening performances between 16 and 31 December, the Talisman's popular annual foray into panto land reimagines festive favourite 'Goldilocks and the Three Bears' as the star attractions of Sopia Semolina Sawdust's carnival.
Combining a troupe of talking bears, a carnival facing bankruptcy and a runaway heiress whose dastardly guardian is intent upon swindling her out of her inheritance, the production will also feature a string of show-stopping song and dance numbers to create the perfect recipe for family fun for all ages.
When wicked guardian Gaspar Grey (Rob Jones) - aided and abetted by his gormless henchmen Swindle (Sharon Sully) and Filch (Billy Arnold) - kidnaps the bears in order to ruin the carnival and force Goldilocks (Sam Harris) into marrying him and so lose her inheritance, Sophie (Matt Baxter), Jocko (Paul Sully) and their fairground friends set off to rescue them from the deserted and haunted Deadwater Manor.
In time-honoured panto tradition - and with plenty of laughs and surprises along the way - the goodies all live happily ever after, and the baddies get their comeuppance.
The panto, written by artistic director Stephen Duckham, is directed by Gill Halford and choreographed by Kim Arnold.
Book your tickets online here or call the box office on 01926 856548.
Matinees at 2.30pm: 17, 18, 27 and 31 December
Evenings at 7.30 pm: 16, 17, 20, 21, 22, 23, 28, 30 and 31 December
The Talisman Theatre has also recently received a further £35,000 towards its redevelopment project from Kenilworth Town Council.
The £1.3million project will eventually see a two-storey extension, a new studio and lift built.
The Talisman Theatre is the exclusive sponsor of Kenilworth Nub News' What's On section.
Without community-minded partners like them we would not be able to produce dedicated, clickbait-free news to the people of Kenilworth.