Pauline Dennis beats last year's champion in Ladies Final
---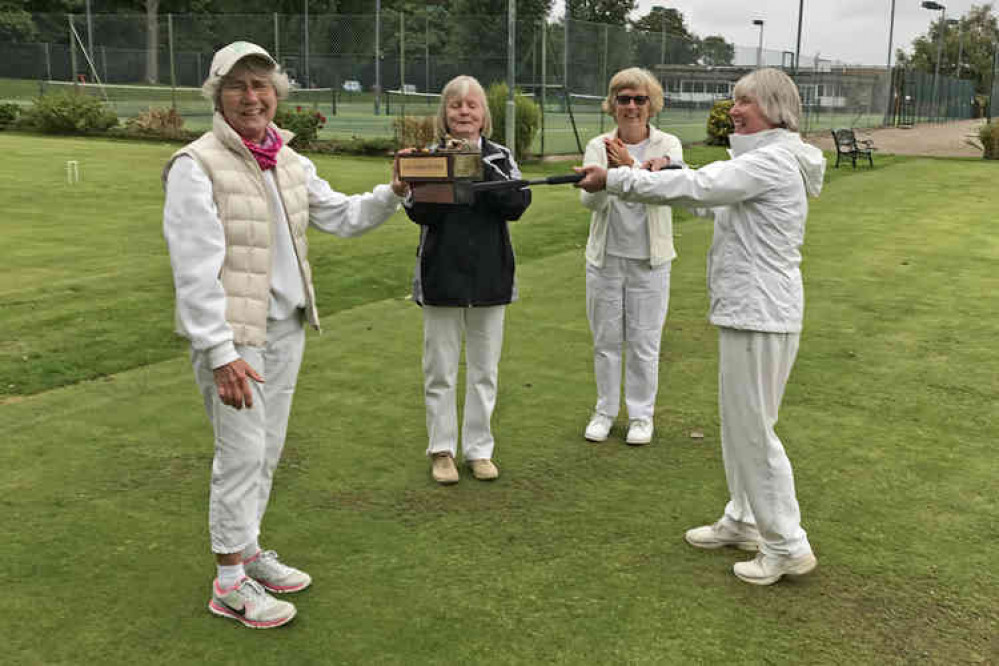 Pauline Harvey (right) presenting the trophy to Pauline Dennis using a mallet to respect Covid restrictions! Irene Rogers (left) and tournament manager Lynne Breedon can be seen in the background.
The final of the Kenilworth Ladies Golf Croquet Handicap Final saw four ladies playing a round robin to decide this year's championship.
As expected, it was a close contest.
After the second round of games, a three-way tie seemed the likely result.
However, when Irene Rogers (handicap 9) beat Lynne Breedon (10) in the third game, the final match of the day between last year's winner, Pauline Harvey (3) and Pauline Dennis (8) would decide the final.
Dennis started well, and although each hoop was hard fought, she was ahead 5-2.
Harvey then fought back to take the lead at 6-5. Dennis was able to use an extra turn to take position as hoop 12 and levelled the score at 6-6.
It was all on the final hoop!
With a couple of extra turns still available, Dennis was again able to take position and when Harvey failed to clear, Dennis took the hoop and the Championship.
Another fine day at Kenilworth Croquet Club, and if you would like to find out more about them, please visit their website.