Kenilworth Cricket Club Sunday sides match the results of the day before
---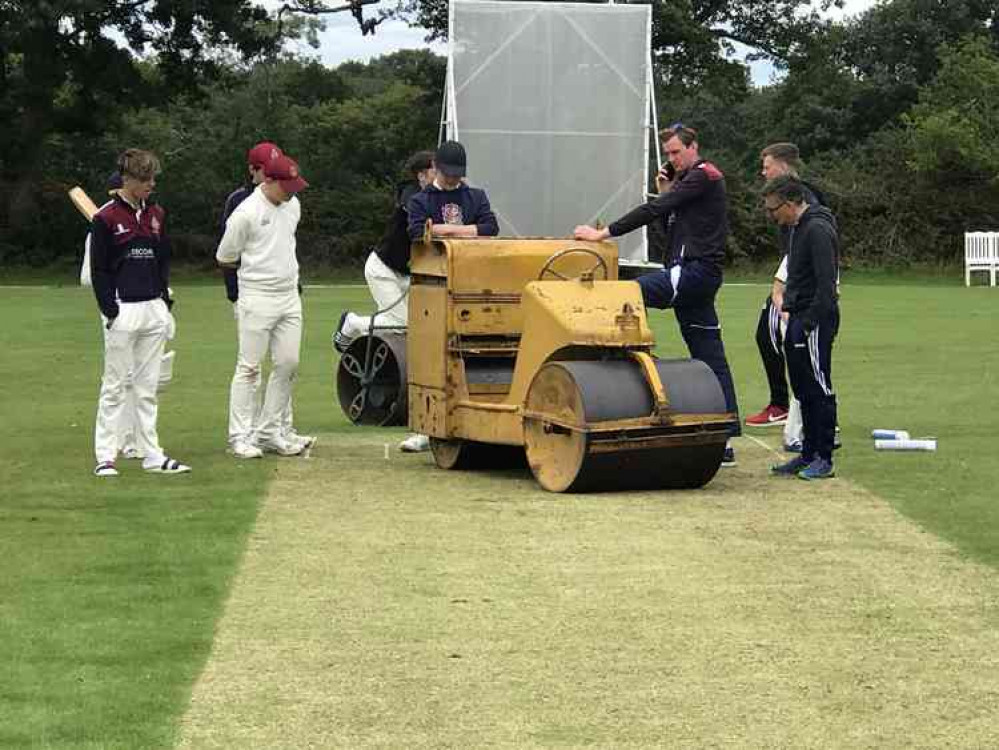 A broken-down roller delayed the start for the B's friendly match this Sunday
Kenilworth Cricket Club sent out two teams this Sunday in the hopes of redeeming to poor results of the Saturday sides this weekend.
Both the Saturday firsts and the seconds lost for KCC this weekend, whilst the friendly match for the thirds was cancelled, in what proved to be a frustrating day for the club.
Unfortunately, neither of the Sunday were able to claim a win for KCC, who were four defeats from four over the two days.
Sunday 'A' XI v. Coventry Ramblers
Coventry Ramblers 176-5 beat Kenilworth 137-10 (35.4 overs) by 39 runs in their 40 overs-a-side friendly this Sunday.
The Ramblers had a comfortable 39-run win at Kenilworth. They posted 176-5 off their 40 overs with Sheepy top scoring with 61 and Shakdhar 30.
Sam Leach took 2-36, Kieran Umashanker 1-27, Henry Curran 1-32 and debutant, Matt Jones, 1-20 for Kenilworth.
In reply, Kenilworth struggled to 70-5 despite 24 from Shyaan Imam, 21 from Charlie Stranks and 12 from Gareth Knights.
Griffin took 4-21 for the visitors as Kenilworth never threatened to reach the set target.
Other wickets soon fell as T. Hall took 2-35 and Sharma 2-25 with Sheepy and S. Hall taking a wicket each.
Kenilworth's George Baines, at number 6, was left stranded on 33 not-out as the side were bowled out for 137 in the 36 over to give a comfortable win to the Ramblers.
Sunday 'B' XI v. Tanworth and Camp Hill
Tanworth and Camp Hill 214-6 beat Kenilworth 113-4 by 101 runs in their 35 overs-a-side friendly this Sunday.
A strong Tanworth side proved too much for the Kenilworth Sunday B team yesterday as they easily ran out 101-run winners.
The match was reduced to 35 overs-a-side due to the the game being delayed by an hour as the roller broke down and became stuck on the wicket, moments before the first over was scheduled.
Once it was removed, Tanworth's Williams hit 53 as the runs flowed.
Andy Turnbull then retired after hitting 78. George Deeley-Graham made 32 not-out and Chahal 20 in the side's huge total.
Youngster Louis Smithson took a fine 2-27 from his bowling spell, whilst there was a wicket apiece for Matt Dadswell, Dan Horner and veteran Andy Smith.
The young Tanworth bowling line-up were frugal in conceding runs and Kenilworth were soon behind the run rate after falling to 26-3.
Any chance of getting close to the target was soon lost.
Horner made 19 and Matt Dadswell 14 (hitting 3 powerful boundaries).
Yet dad, Andy Dadswell, shone with the bat to hit his first half century of the season making 51 not-out (8 boundaries) in a solid performance.
The innings closed on a 113-4, a long way short of Tanworth's score.
There were wickets for Doige, Newell and Tonks.