Book released covering 122 years of history at Kenilworth Tennis Squash and Croquet Club
---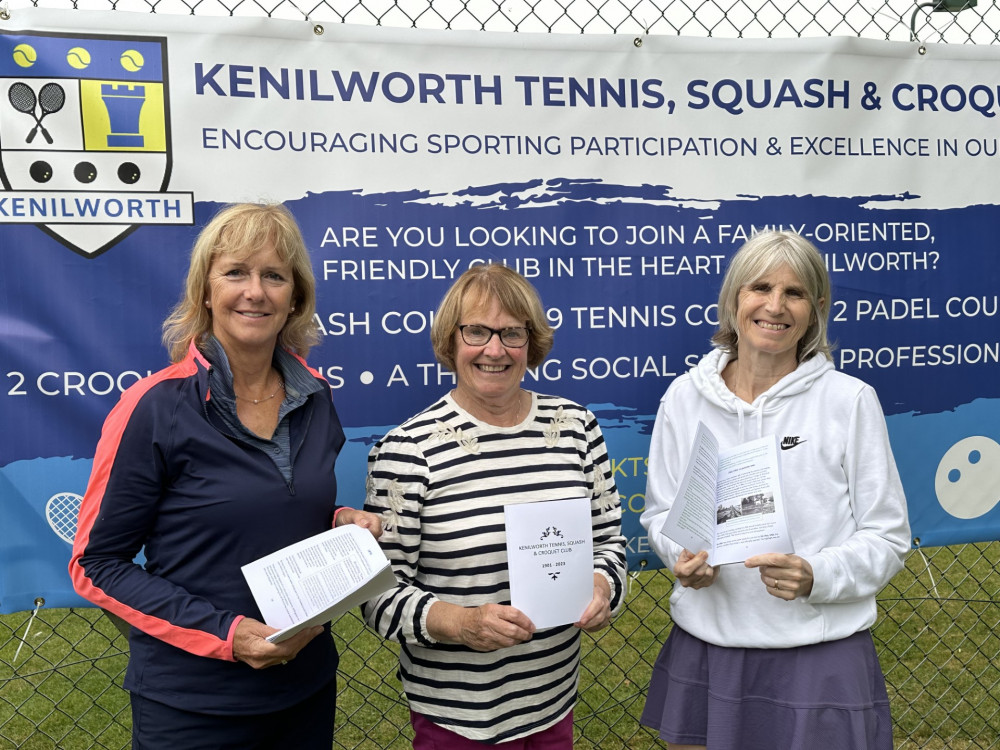 From left - Shirley Whiting, Kay Gebbels and Mel Jennings with copies of the history book (image via KTSCC)
Members of Kenilworth Tennis, Squash and Croquet Club have taken a trip down memory lane as they prepare to celebrate a major milestone.
This year marks 60 years since the opening of the clubhouse in Crackley Lane in 1963, following a move from Queens Road where the club was founded in 1901.
To mark the Diamond Jubilee, a group of members have compiled an entire 122-year history of the club from the days when a donkey cut the grass to the development of today's modern facilities.
It is available to read on the club's website and has also been printed as an 88-page booklet.
Club vice-president Mel Jennings said: "Fortunately, committee members over the decades kept meticulous records of minutes and stored them for future reference either in paper or digital form.
"In addition, members were asked to submit their own memories and photographs, as the club is essentially about our people and the many friendships formed.
"Chapters were emailed out to members each week and as momentum gathered, more and more players got on board to contribute their quirky tales of yesteryear. We even had a message from Australia.
"We are having a jubilee party later this month for members and past members when I am sure everyone will enjoy reminiscing about their times on and off the courts and lawns."
The 700-member club now has nine tennis courts, six squash courts, two croquet lawns and two new padel courts.
Anyone who would like a £3 copy of the booklet can contact Mel Jennings on 07968 236885.