Wardens put seven past Christ the King for fourth straight win
---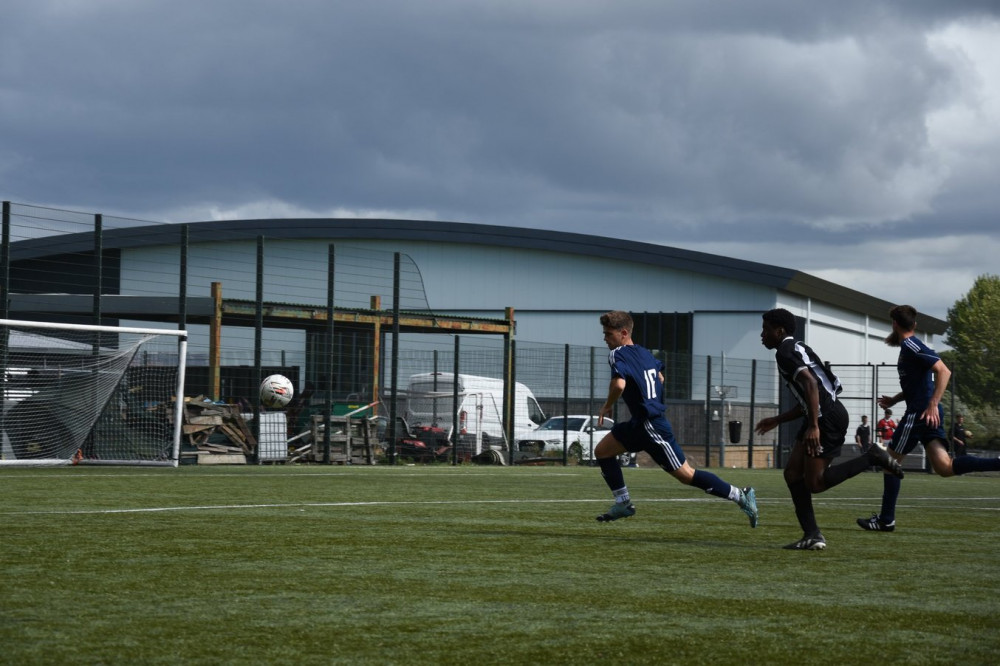 Christ the King 2-7 Kenilworth Wardens (image via Alex Waters)
Andy Legg netted four times as Kenilworth Wardens put seven past a depleted Christ the King side to make it four wins from four.
Despite a balanced start, the league leaders took an early lead when Guy Pearson tucked home his 70th Wardens goal from 10 yards, tucking home a cut back from Dave Buckley after a neat one-two with James Proctor.
Wardens could have added to their lead, with Buckley coming close on two occasions, a long range effort from Eamonn Richards going narrowly wide and Pearson hitting the post. However Christ the King equalised in bizarre fashion.
A long ball forward was passed back by Matt Wright to the onrushing Andy Whitehouse, the mix up let the ball slowly go trickle into the goal for an Wright own goal.
Wardens did retake the lead on the stroke of halftime. Pearson intercepted a pass 35 yards out - he played Buckley in the box who under pressure from both home centre backs turned and laid the ball to Dan Twigger to fire into the bottom corner from close range.
Before the break Wardens began to dominate possession and the game but again were pegged back through a really well worked goal from the hosts.
Whitehouse then had to pull off two impressive saves within the space of 30 seconds to keep the game even.
Following the restart the visitors restored their dominance and retook the lead on 55 minutes when Pearson curled the ball into the top corner off the inside of the post after Twigger and Proctor had done well to win the ball high up the pitch.
Pearson turned provider five minutes later. Wardens defended a corner with the ball played to Buckley. Buckley held up ball before laying to Wright on the wing. Wright cut back to Pearson whose perfect cross found captain Legg whose side footed volley went in slowly past the keeper.
Wardens made it five three minutes later. Buckley's blocked shot fell to Richards 25 yards out whose goal bound shot was blocked six yards out with a high arm which resulted in a penalty. Legg stepped up to comfortable score his pen.
On the 75th minute impressive substitute Adam Hnat broke into the box, beat three players before passing to Pearson. Pearson turned his man and was taken out by a mistimed slide tackle for another penalty. Once again Legg scored his penalty for his first hat trick of the year.
With 10 minutes left Richards intercepted a pass on the half way line and set Pearson down the left. Pearson drove into the box before crossing to the unmarked Legg who made the finish look easy for his sixth goal of the year and Pearson's hat trick of assists.
"It's been a good start four games four wins, 12 points, 16 goals," Richards said after the game.
"We need to improve in possession however, today was a good game to try and attempt to transition into a more possession based side, naturally took us 30/35 minutes to get back into the rhythm of keeping possession. Loads of work will need to be done off the pitch by me and Jamie but sure we will only improve.
"Equally knowing there is so much to improve, the results have been brilliant and the attitude of the whole squad has been superb. Couldn't have asked for more around the culture, work rate and commitment of the lads.
"Guy has been doing what he does for such a long time sometimes it's easy to forget or take for granted just how fantastic he is as a footballer. He was outstanding today as he always is.
"Our attacking options and line ups currently are scarily good. Buckley is at the centre of all of it even though he hasn't scored in two games, space he creates for others and build up play are invaluable.
"Next week is Dunlop which will be a huge game."
Meanwhile Wardens Reserves managers Kris Brandam and Sam McKinnon started their Wardens career with a 4-2 win against new side Punjab Athletic. Goals from Harrison Wright, Archie Evans, Joe Farez and Kyle Forbes securing the three points