Kenilworth Wardens and Kenilworth Sporting play out draw in preseason friendly
---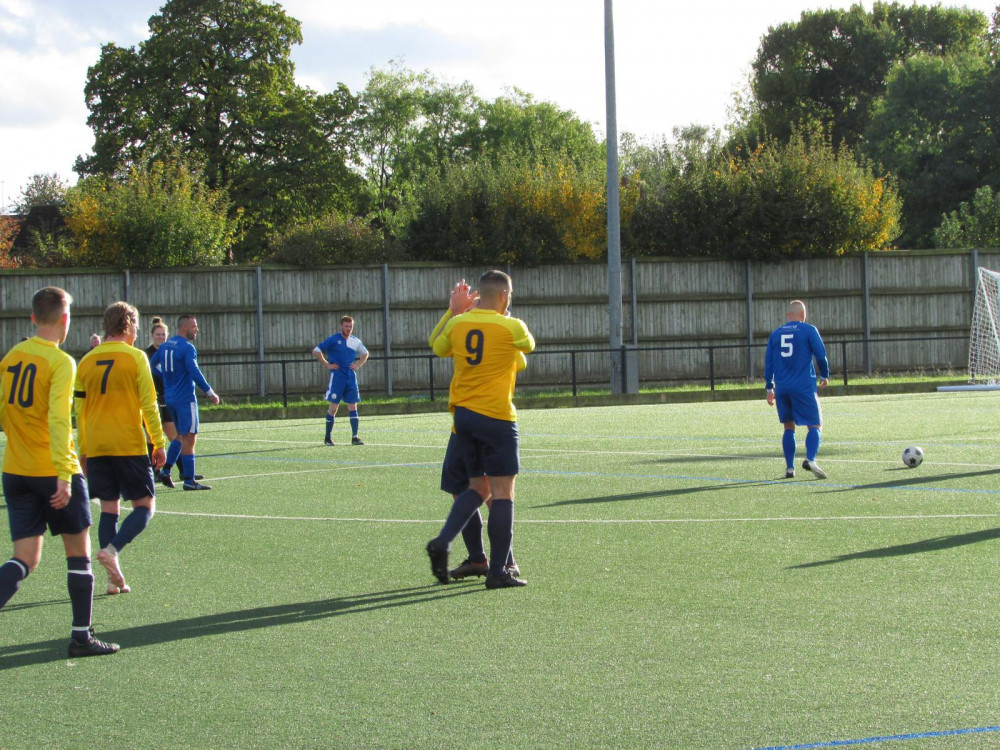 Kenilworth Wardens came from behind to draw at Kenilworth Sporting (image by Alex Waters)
David Buckley netted on his first appearance for Kenilworth Wardens as the Coventry Alliance outfit came from behind to draw with neighbours Kenilworth Sporting in a preseason friendly.
The new striker was twice denied by the offside flag and then from a penalty before tucking the ball away in the second half to cancel out the host's opener from the spot.
And with his side featuring a number of debutants, first team manager Eamonn Richards was satisfied with the performance.
"Last week we played our first preseason but with 18 players unavailable wasn't a good representation of our side," he said.
"Today with essentially a completely different side we looked more like the team we want to be.
"Great to have new signing Tom Shanley and James Proctor playing today who both played well.
"New signing Matt Wright was played out of position and was absolutely dominant. Buckley got off the mark today and is looking fitter and sharper each day, he's going to be a huge player for us this season and it's great he's settled in on and off the pitch so quickly."
It was the hosts who started the better of the sides, taking control for the first 25 minutes, albeit without testing travelling keeper Andy Whitehouse.
Sporting's best two chances fell when Wardens lost the ball high up the pitch and were hit on the counter attack, but both one-on-one chances from tight angles were off target.
The game began to come to life late in the first half.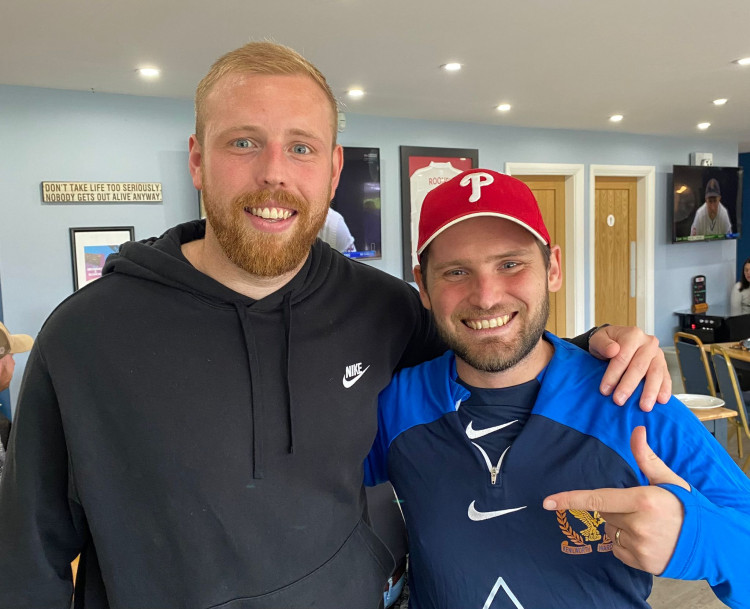 David Buckley (left) pictured with first team manager Eamonn Richards (image supplied)
Dan Twigger won the ball high up the pitch and played to captain Andy Legg on the left hand side. His inch perfect cross found Buckley who muscled past two players to head in from six yards out. However it was ruled as offside, much to the upset of Wardens players.
Moments later Sporting went up the other end and after good play from the right the ball was crossed in and James Butler was adjudged to foul in the box for a penalty to Sporting which was dispatched expertly.
On the stroke of half time the ball was played out wide to Guy Pearson who played an excellent cross to Buckley who again had the ball in the back of the net, however was again adjudged to be offside.
Wardens made changes at half time, with Luca Valle returning from injury and captaining the second half. The midfielder immediately started to bring control and possession to Wardens' play in the middle of the pitch.
On 55 minutes a long ball forward was won by Buckley, then Stan Moss and Adam Hnat before Hnat completed a one two with Buckley and was played down the right.
Hnat crossed to Moss who laid off to Buckley inside the box, who was caught from behind for a Wardens penalty.
Sporting were rightly upset, arguing the ball went out of play in the build up. Buckley's powerful penalty was expertly saved however by Sporting's keeper.
On 65 minutes Wardens came close to equalizing when a long throw from Moss was flicked on by Andy Legg, however Ryan Oldham's free header was directed off target.
Again on 70 minutes Moss' long throw was flicked on by Legg and fell to Buckley 15 yards, and this time the new front man volleyed into the bottom corner to equalize.
Despite Butler and Wright excellently marshalling at centre half and preventing many chances Sporting had two half chances to retake the lead late on, but both were comfortably saved by Whitehouse in goal.
"We want to thank Sporting and Ryan Dowling for hosting today," Richards added.
"Sporting have a brilliant set up and have some really talented players. If they don't finish in the top in the Stratford Alliance I'd be surprised."
Meanwhile Wardens Reserves lost 6-2 to an impressive Whitnash side.
Both Wardens sides are playing against Coventry Phoenix on 29 July. With kick offs for Reserves 12.30pm and firsts 2.30pm at the Alan Higgs centre.