Kenilworth progress in cup after victory over Dunlop
---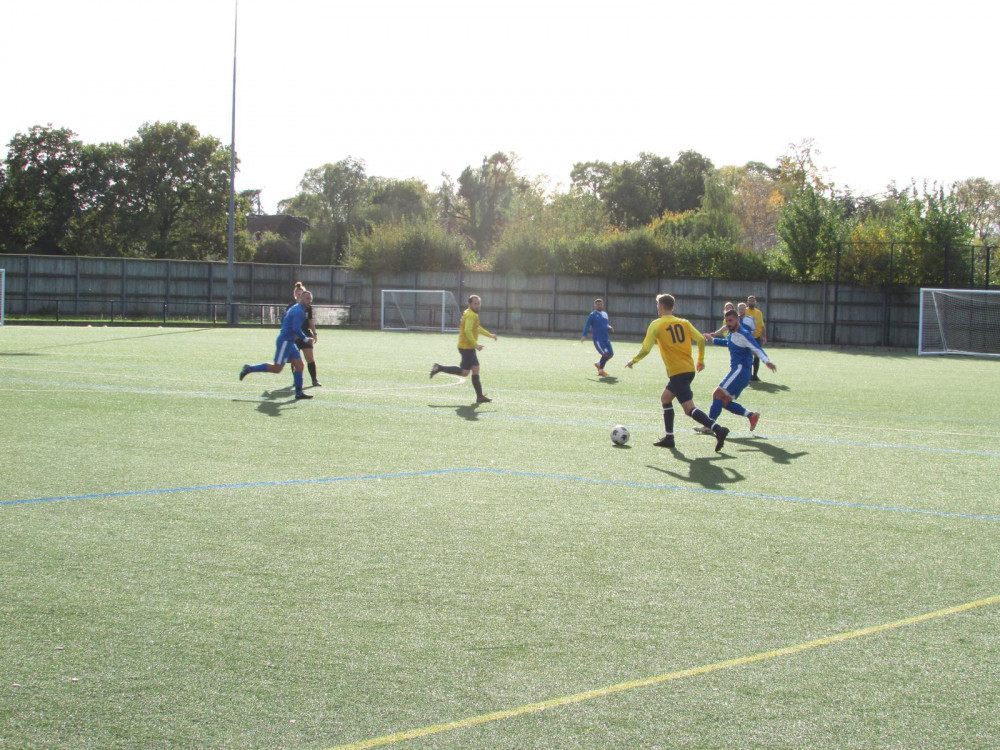 Kenilworth Wardens were praised by manager Eamonn Richards for their 'best performance of the season' (Image by Alex Waters)
Goals from Jack Thomas and Toby Wells saw a depleted Kenilworth Wardens overcome Dunlop to reach the next round of the Stan Oulds League Cup.
The hosts were without regulars Andy Legg, Guy Pearson and Luca Valle but were boosted by the return of Wardens legend Tom Griffith, who featured for the first time this season.
Kenilworth set up to be compact, sitting deep against the impressive technical and physical Dunlop side. The game quickly fell into a pattern of Dunlop having possession but being unable to break down Wardens once the ball hit the final third.
On the counter attack Dan Twigger came close three times but was unable to find the back of the net, while Stan Moss and Wells also had half chances but were unable to test the keeper.
But on the stroke of half time Wardens went close when a corner from Eamonn Richards was crossed onto the head of captain James Brewitt six yards out, but his header went a yard wide.
To the understandable frustration to Dunlop the referee gave a corner from Brewitt's uncontested effort.
Thomas put a poor ball in but it was recycled by Griffith back to Thomas to beat a man at the byline and hammer the ball straight into the top corner from a tight angle 20 yards out - a truly stunning strike and his fourth of the season.
And the hosts were lucky to keep their advantage as the second half began with Dunlop repeatedly knocking on the door. The visitor's best chance came from a corner which was headed towards goal, however the flick on from the impressive Habib Salim went narrowly over.
On 60 minutes the referee blew for a free kick after a perfectly timed Phil Rudd tackle leading to both sides complaining - Wardens arguing it was not a foul and Dunlop arguing correctly that it was actually in the box.
As the half continued Wardens began to make chances, going close through Wells who was only denied by a last ditch tackle which sent his effort wide.
On 67 minutes Wardens had a long trademark throw from Moss. Matt Legg moved the ball to Brewitt who flicked to Dan Twigger who finished into the bottom corner.
However, the goal was disallowed for offside to the bewilderment to the Wardens players.
Minutes later a cross from Dunlop was turned behind by Matt Legg. Despite no interaction from a Dunlop player the decision was given as a goal kick.
Andy Whitehouse clipped the subsequent goal kick to Thomas on the halfway line, he controlled the ball on the half turn and played in Wells again, who drove into the box before expertly striking into the corner for his first goal of the year. A goal which was deserved after a brilliant performance.
Dunlop pushed for a goal but wardens back line were resilient to the pressure. Twice in the closing stages Dunlop got through Wardens, however on both occasions Andy Whitehouse made strong saves from tight angles.
Wardens finished the game 2-0 getting their first clean sheet of the year and their sixth win from nine.
"Dunlop are a good physical and technical team and will cause problems for any team they play against this year," Wardens boss Richards said.
"They were understandably upset around decisions today that didn't go their way, however we were brilliant as a defensive unit and if you play for 90 minutes and don't score you don't deserve to win.
"That was a brilliant performance from us. I've been unhappy after most games this year of how defensively open and how and we've been in transition. But that was a classic Wardens performance, 100 per cent concentration, organization, work rate and communication.
"Best performance of the year by far, hopefully continue next week against RS Sports."