Kenilworth Runners complete debut ultra-marathons at South Downs 100k
---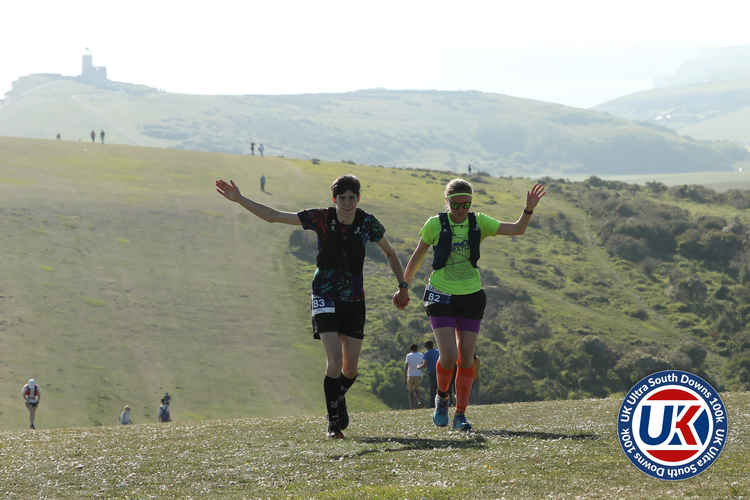 Sam and Mary pictured at the top of the Seven Sisters climb (Image by Stuart March Photography / UKUltra)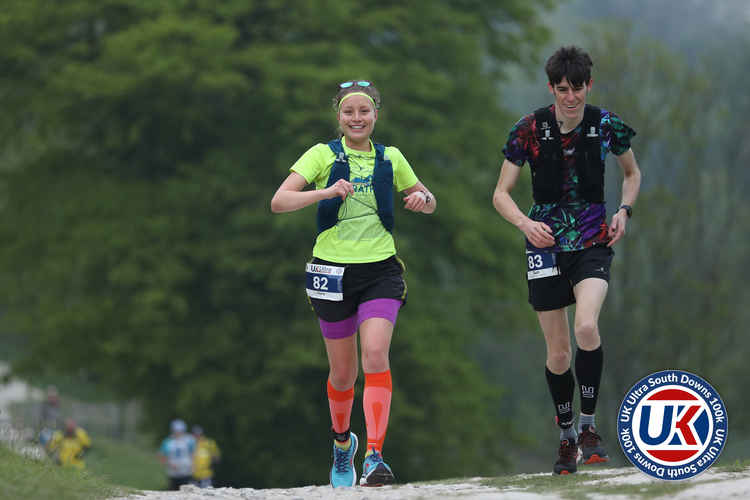 Sam and Mary completed the course in 12 hours, 24 minutes and 9 seconds (Image by Stuart March Photography / UKUltra)
Two members of Kenilworth Runners have completed their debut ultra-marathons at the South Downs 100k event.
Sam Garforth and Mary Scott completed joined 141 other runners covering the 100km distance between Arundel and Eastbourne over the bank holiday weekend.
Taking in 8000ft of vertical gain, the pair finished in 47th and 48th, as they were separated by just one second according to the official timings. Mary completed the course in 12 hours, 24 minutes and 9 seconds, with Sam fractionally behind.
The race was won by James Turner of Brighton and Hove AC in 8 hours, 8 minutes and 4 seconds, as 126 of the starters finished the course.
The Kenilworth runners both used a traditional ultra-marathon strategy during the race, walking up the hills and then running on the flat and downhill parts.
Speaking after the race Sam said: "The first 50k was wonderful with plenty of company around and an aid station every few miles to look forward to.
"We grabbed several sandwiches, cakes and watermelon slices at each one making it feel more like a long-distance picnic than a race."
However, as the two reached the 50km mark they were slowed down by the fact that much of the official signage had been removed.
"We relied on a combination of phones, guesswork and sensor on Mary's watch that alarmed whenever we strayed too far off the pre-set course," says Sam.
Sam and Mary were not the only Kenilworth Runners to be completing a ridiculous distance that weekend. Colin Bailey took part in the Grand Union Canal Ultra-marathon, finishing within half an our of his fellow Kenilworth Runners in the south.
Reflecting back on what he and Mary had achieved, Sam said: "A great day out for both of us and an excellent first ultra. We're both very achy now and need to recover for a while but wouldn't rule out another one maybe next year."
To find out more about the 2022 South Downs 100k please follow this link to the website.