Wardens put four past Copsewood in thriller
---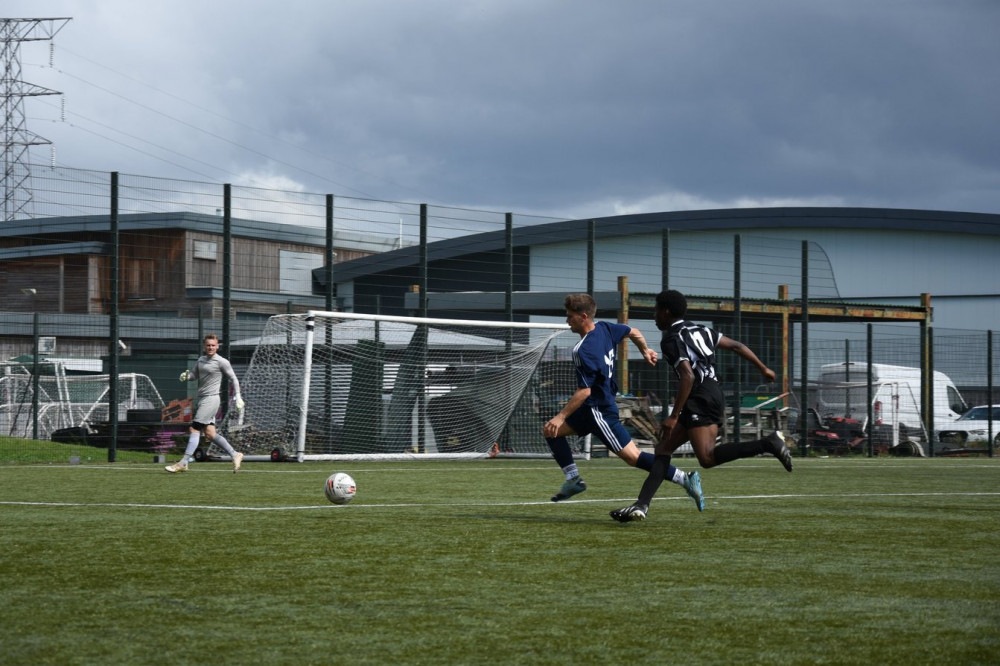 Kenilworth Wardens 4-1 Coventry Copsewood (image via Kenilworth Wardens)
Wardens took their positive cup form back into the league with a 4-1 win against Copsewood.
But it wasn't plain sailing for the hosts who were completely dominated in the opening minutes.
Twice Copsewood went one-on-one with Andy Whitehouse, only for the Kenilworth keeper to pull off two brilliant saves to keep the game level.
Wardens then went on to take the lead on 25 minutes, with a move started by James Brewitt who tackled the Copsewood striker on the half way line.
Dave Buckley picked up the loose ball and played to captain Andy Legg on the left wing. Legg hit an incredible cross from 40 yards out, finding Guy Pearson at the back post to side foot into the bottom corner.
Wardens could have doubled their advantage soon after when a Pearson cross left Buckley with a good chance to score, however his first touch meant the defender was able to recover.
Moments later that same combination did produce a second goal.
hitehouse chipped the ball to Eamonn Richards on the half way line, his headed pass found Pearson. Pearson crossed from deep to Buckley, whose first touch was exceptional this time, before he calmly passed into the bottom corner.
Copsewood came out into the second half with a change in tactics seeing them completely dominated for 15 minutes.
Again Wardens were fortunate to have Whitehouse in goal who made a string of excellent saves.
On 60 minutes Copsewood did get the goal their dominance deserved when a mishit cross went in off the post.
The visitor's comeback was short lived however.
On 65 minutes Whitehouse's goal kick was excellently brought down by James Proctor on his chest. He played to Isaac Bloomer who played a defence-splitting pass to Buckley. Buckley span and was one on one with the keeper, however unselfishly dropped the ball off to his left to Legg to pass in for his 10th of the season.
As the game drew on, both sides created more chances to score.
Matt Wright missed a one on one for Wardens and Copsewood's Bradley Taylor was stopped by a finger tip save from Whitehouse - the stop of the day.
Substitutes Dan Twigger and Adam Hnat combined for two good chances, however Hnat could not get his efforts on target.
A James Butler freekick was played to Buckley whose shot hit the inside of the post and a Pearson freekick was excellently saved.
Then with minutes to play Hnat played Twigger down the right who won a corner. Hnat took the corner short to Buckley, who turned both of the men marking him, beat another before passing to Hnat, Hnat found Pearson who controlled and hit into the near post with a disguised shot, for Pearson's fifth goal of the year.
"The score line flattered us really, Copsewood are a good side with some really good technical and physical players," Wardens manager Richards said after the game.
"It's a shame they're bottom of the league, with better luck sure they could beat anyone in this league.
"We really weren't great today, but we worked so hard, defended well, Andy Whitehouse in goal was excellent as usual with top saves. That combined with Buckley, Andy and Guy all at their best gave us the win.
"All four goals today were absolute quality, that's the difference between us winning and losing. When Buckley, Guy and Andy play like that they're unplayable- with the subs Twigger and Adam being brilliant when they came on too.
"Got big games coming up and hopefully we will continue to get big results."