Kenilworth crowned West Midlands Golf Croquet League champions
---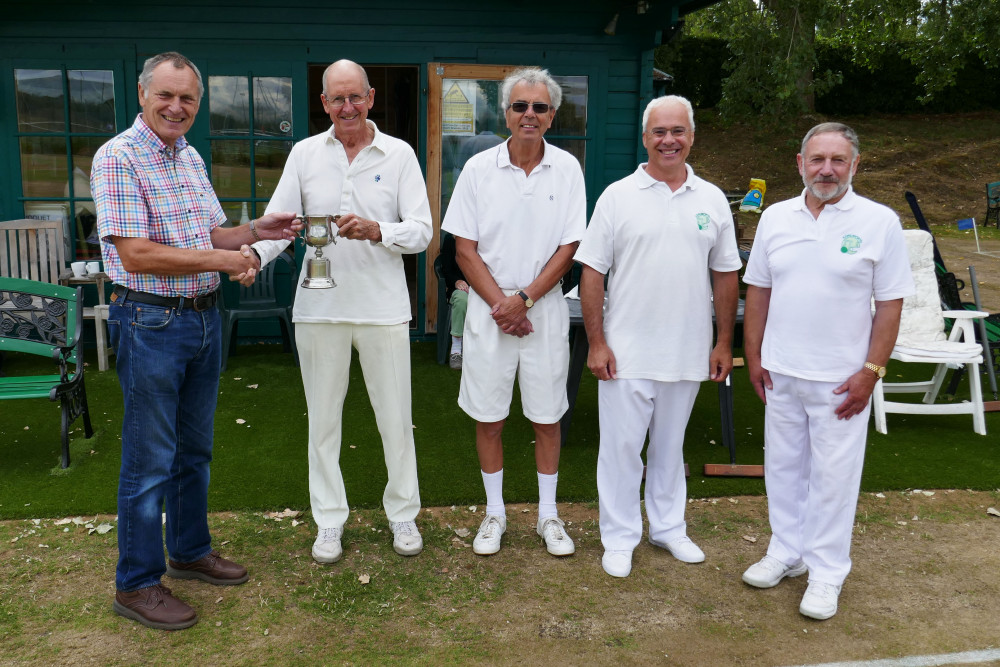 Adrian Morris, West Midlands Chair, presenting the trophy to captain Philip Wood with teammates Mervyn Harvey, Phil Mander and Phil Blake
The final two games of the West Midlands Golf Croquet League were played this week and Kenilworth needed to win both for a chance at the league title.
The first match was away at Broadwas on their notoriously sloping lawns.
Broadwas started well but as Kenilworth acclimatised to the conditions, fought back to win the final round of singles by four games to nil and level the score at eight games each.
Kenilworth then won both the doubles games to win the match ten games to eight.
Phil Mander won three singles, Phil Blake and Mervyn Harvey, two each and Philip Wood one.
Later in the week, Kenilworth were at home to Church Stretton and needed to win 12 of the 18 games to take the title.
This they achieved with a 12–4 lead in the singles and again winning both doubles to win the match 14-4.
Phil Blake scored four wins, Wood and Harvey three and Wood two.
This gave Kenilworth the vital winning bonus point and the League Championship.
To find out more about croquet, see the website www.ktscc.co.uk/croquet