Volunteer sacked from Kenilworth Castle to protest decision at English Heritage's London HQ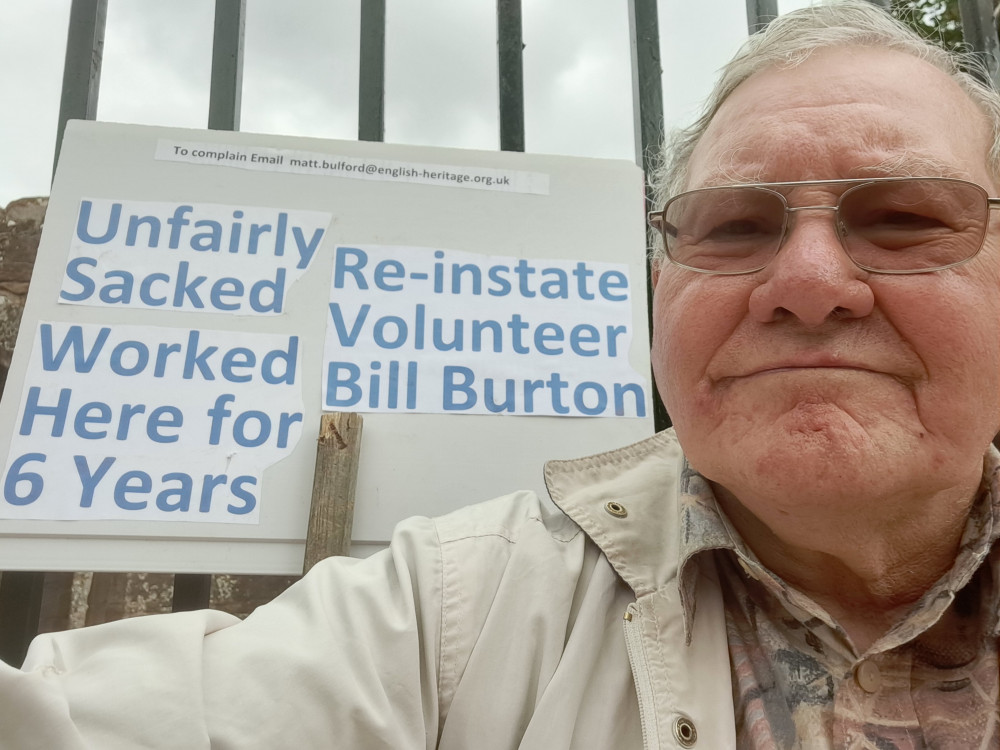 Former Kenilworth Castle volunteer Bill Burton has protested outside the building nearly 60 times since he was let go in March
A volunteer who was sacked from Kenilworth Castle has said he is going to protest outside English Heritage's London headquarters in an attempt to get his job back.
Bill Burton, 74, was let go from his position as a gardener at the town's main tourist attraction after an argument with a motorist about using the car park opposite Castle Green.
Following a suspension and then a series of meetings, reviews and appeals, he was let go from his position at the castle in March.
Mr Burton held his first demonstration on March 13 and has now protested at the castle nearly 60 times over the past five months - totalling over 110 hours.
He has also travelled to Swindon to protest at the offices of the castle's operator English Heritage, and he has written to all the trustees in the hope of getting his job back.
But now says he has no choice but to go to the charity's head office in the capital to make himself heard.
"People keep saying that I am wasting my time and that I should go away, but I have written to the CEO of English Heritage and I have written to all the trustees," the former union representative told Nub News.
"Obviously I didn't know all their addresses so I sent half of them to Swindon and half of them to London.
"I want them to hand out the letters at their next quarterly meetings - but I haven't heard anything back yet.
"I went to Swindon about two months ago to protest but that was a waste of time because I couldn't get in the office.
"But I am going down to London with my banner and the rest of my letters for the trustees to try and deliver them there."
Mr Burton, who first joined the castle as a volunteer in 2016, said he felt mistreated by the way the situation was handled and said that had spurred him on to continue his protests.
"It feels like they thought I was being an embarrassment to them, so it was just easier to get rid of me," he said.
He added: "I have been working there for six years, and done 3,000 hours there - so I feel like I have plenty of time to protest now.
"They need to train their staff properly and treat their volunteers like actual employees.
"I have had a clean sheet and I have never had any trouble there before this."
Whilst Mr Burton said some people on social media had "slaughtered him" and said he was an "old age idiot who should go away", he said he would continue to fight his battle.
And asked whether he would actually want to rejoin Kenilworth Castle after the last few months, he said he would be "happy to go back".
"I don't hold a grudge.
"And I don't live too far from the castle so it is an ideal job for me. And I have a lot of friends there - although I am a bit disappointed that the volunteers haven't come out to support my protest."
Following one of Mr Burton's protests earlier this month, English Heritage said it respected his right to demonstrate peacefully.
An English Heritage spokesperson said: "There was a protest outside Kenilworth Castle and of course, we respect the right to demonstrate peacefully.
"The person in question previously volunteered with English Heritage and left the charity following a thorough review.
"Every day hundreds of volunteers help us to tell the story of England and they are an integral part of the English Heritage team.
"Whether it's helping to plant bulbs in formal gardens, assisting with conservation works or answering questions from curious visitors we are grateful for all of the support, skills, and volunteered time which is given to our charity."