HS2-funded new Burton Green Village Hall opens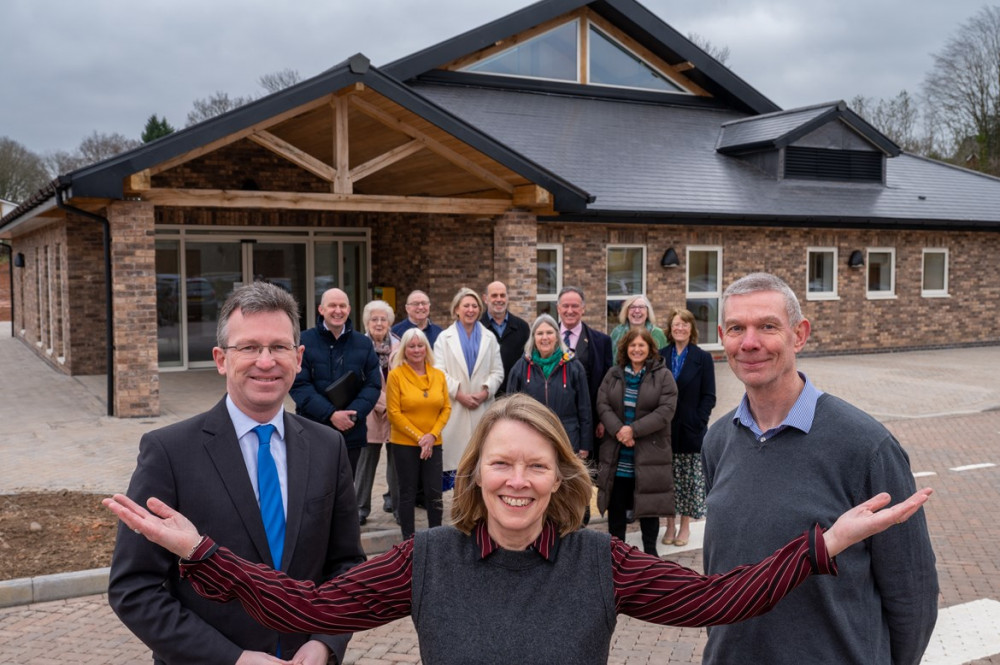 Sir Jeremy Wright MP, Burton Green Village Hall chair Cheryl Wall, and HS2 senior project manager Alan Payne, pictured with trust members in front of the new facility (image via HS2)
The new Burton Green Village Hall was officially opened by Sir Jeremy Wright MP, leader of Warwick District Council Cllr Andrew Day and Cheryl Wall, chair of the Burton Green Village Hall trustees on Friday (March 3).
HS2 has worked since 2014 to design and build the brand new facility, with the old hall set to me demolished to make way for the new railway line.
Key features of the new building – which was built by Coventry-based Deeley Construction and designed by Dave Benn and John Viner from local firm VB architects - include an expansive main hall complete with exposed wooden beams, a professional kitchen, outdoor BBQ area, reception, and dedicated office space.
The carpark is complete with electric vehicle charging ports and a bicycle rack. The trustees also plan to install a water butt to conserve rainwater, which they will used to maintain the site grounds.
The building also features a series of stained-glass windows produced by local artist Vicki Aizlewood, influenced by drawings from children at Burton Green C of E Primary School. The windows depict the past, present and future of the nearby Kenilworth Greenway.
Ms Wall, said: "It's just over one hundred years since the first Village Hall opened in Burton Green, and forty since the current building was constructed, both of which were conceived, funded and managed by enthusiastic community-minded volunteers.
"Campaigning for and delivering a new facility that builds on and enhances that legacy has been a long and challenging journey. We are delighted with the end result and believe Burton Green's new village hall is a first-class facility of which the whole community can be proud."
High speed trains will travel underneath Cromwell Lane through a 700-metre tunnel. To build the green tunnel, a cutting has been created along the line of the existing Burton Green and Kenilworth Greenway.
Construction of the tunnel is well underway, with over 148 roof segments already installed as part of the 200-metre long concrete porous portal, with each segment weighing over 22 tonnes.
HS2 has created a temporary greenway that currently runs alongside the new hall. Once construction is complete, the greenway will be restored close its original alignment, running across the top of the new tunnel, providing a link from Burton Green to Kenilworth and Berkswell for walkers, cyclists and horseriders.