DHL to create 600 new jobs at £240m depot near Kenilworth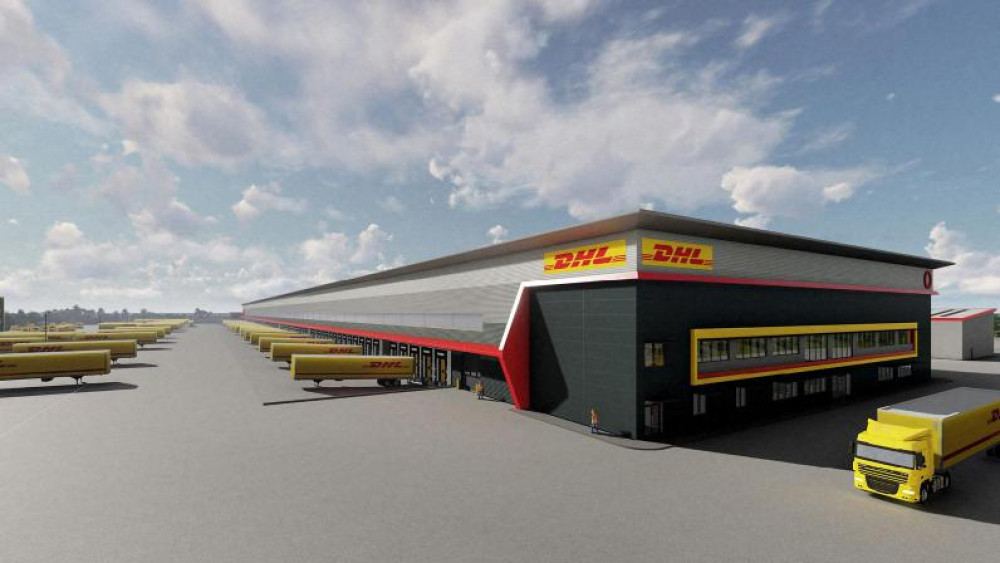 DHL will spend nearly £240million building a 25 square metre hub near Coventry Airport (Image via DHL)
DHL has said it will create 600 jobs as it invests nearly £240million in a new 25,000 square metre depot near Kenilworth.
The logistics firm has today announced plans to invest £482million across the UK.
Nearly half of the funding will be spent building the new facility at SEGRO Park Coventry Gateway, south of Coventry Airport.
DHL said the new hub would be able to hand 500,000 items per day, creating jobs in warehouse, driver, administration and management positions.
The company said the investment follows a 40 per cent increase in the volume of deliveries since the start of 2020.
State-of-the-art machines will allow automatic sorting of items on-site.
The building has been designed to achieve BREEAM 'Excellent' status to minimise its environmental impact through design features such as 7,000 square metres of solar panels, LED lighting and landscaping to protect the natural biodiversity of the area.
As well as incorporating EV charging points for cars, the site will also be equipped with LGV electric charging points.
An initial £64million will be invested in upgrading the company's fleet with a major focus on alternative fuel vehicles.
The fleet investment includes six fully electric 18 tonne trucks, 30 Liquified Natural Gas (bio-LNG) trucks, and 18 electric tugs.
Finally, the business will also invest over £190million to create 10 brand new collection and delivery depots across the UK, and 20 more existing sites will be expanded.
The new and expanded depots will create an additional 3,500 jobs across the country.
Peter Fuller, CEO of DHL Parcel UK, said: "This investment is a real demonstration of the excellent work our people and partners have delivered over the past two years to get us to the level of growth where major expansion is required to meet customer demand.
"E-commerce is going to continue to shape the world around us, this investment, along with the strength of the DHL brand and our leading approach to digitalisation and sustainability will put us in a strong position to take advantage of market growth."
Minister for Investment, Lord Grimstone, added: "DHLs investment into the heart of the Midlands is testament to the success of inward investors in the UK, and is the latest example of our investment strategy and the Government's levelling up agenda delivering results.
"With investment comes jobs and a boost to local economies, so I look forward to seeing the Midlands continue to flourish and promoting our commitment for a cleaner and greener future."
Warwick District Council has already revealed a £200,000 scheme to build a 'masterplan' for all the major developments north of Kenilworth.