Reigning champions in the saddle ahead of Inter Hunt Relay title defence at Kenilworth Show
---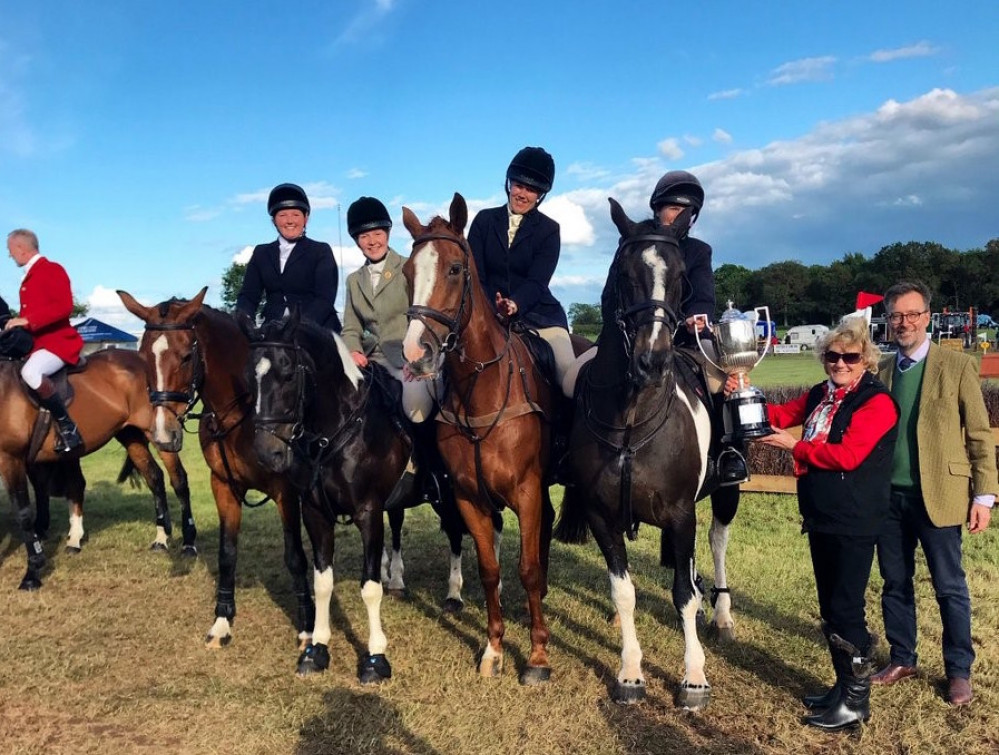 The Cotswold Hunt are hoping to retain their crown as champions of the Lodders Inter Hunt Relay
The reigning champions of a classic Warwickshire sporting event have assembled a new team to defend their title against other top riders from across the country.
The Cotswold Hunt are hoping to retain their crown as champions of the Lodders Inter Hunt Relay when the Kenilworth Show returns on the weekend of the Queen's Platinum Jubilee following a three-year hiatus.
The team has held on to the inaugural Ted Edgar Trophy since claiming it in 2019, and will defend their title for the first time on Saturday, June 4 at the show's new site on Stoneleigh Park Estate, with three new riders representing the reigning champions at this year's event, along with four new horses.
The Inter Hunt Relay sees two teams of four riders taking on identical courses filled with obstacles and jumps across a series of heats, with teams relying on their relationships with each other and with their horses to complete the course in the fastest possible time.
The prize remembers show jumping legend Ted Edgar who passed away in December 2018. As a teenager, Edgar competed in the gymkhanas at the Kenilworth Show when it was held at Abbey Fields.
Emma Smith, of the Cotswold Hunt, said that while there have been changes to their winning line up, they will be pulling out all the stops to reclaim the trophy.
She said: "We are looking forward enormously to defending our Inter Hunt Relay title at the Kenilworth Show this year as we've not had the chance to do so in the last couple of years.
"It's going to be a great day, and a great sporting spectacle for everyone to enjoy whether you've seen this kind of event before or not, but we can't ignore that competitive streak that makes us all want to win, and we'll be fully determined to reclaim that title.
"The relay can be won or lost on the quality and speed of your changes, so we are keen to make sure we don't let our timings slip, despite being a new team. We all know each other and are getting to know the horses very well, and are confident that we can challenge again this year."
Lodders Solicitors will return for its second year as main sponsor of the Inter Hunt Relay, which is also being supported by Berrystock Feeds. Prize money will include £1,000 for first place, £600 for second and £300 for the third-place team.
James Spreckley, head of Lodders' Agriculture and Landed Estates team, said: "We are delighted the Kenilworth Show is back after its Covid-enforced absence, and to be supporting the event again this year.
"We are really looking forward to giving the firm's fresh, new branding one of its first high-profile outings as sponsor of the Inter Hunt Relay, which is now in its second year, as well as of the live music at The Village Green, where we can meet up with our clients and contacts, and hopefully many of the show's visitors who shouldn't miss out on enjoying the excellent entertainment.
"Lodders has worked with individuals and businesses in all areas of the rural economy and community for all of its 235 years. We continue to see taking an active role in local events such as the Kenilworth Show as an important way for us to support our local communities and meet people who, like us, have a passion for the countryside."
Charlie Weetman, director of the Kenilworth Show, which is organised annually by the Kenilworth and District Agricultural Society (KADAS), said: "There was a huge buzz around the Inter Hunt Relay on show day in 2019, and the competitive spirit that the Cotswold Hunt will bring when they defend their title is sure to add to that this year.
"I'd like to wish all teams the best of luck for the relay, and thank Lodders once again for supporting this event, which has so much history behind it through its connection to Ted Edgar and his show jumping legacy."
For more information and for tickets, visit www.kenilworthshow.co.uk