Kenilworth Wardens end winless run with victory over Dunlop
---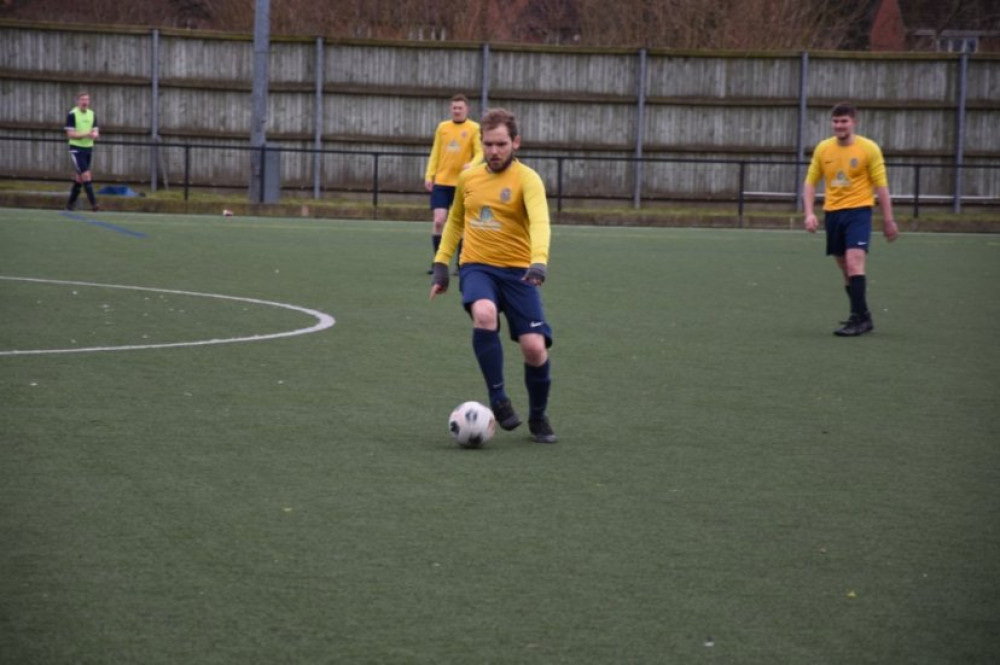 Wardens' last victory came in January against RS Sports in the cup (image via Alex Waters)
Kenilworth Wardens ended a run of five games without a win, beating Dunlop firsts 5-2 to claim a their first three points since early January.
After the recent injury and unavailability crisis, Wardens welcomed back Phil Rudd, captain Andy Legg, Guy Pearson and Harrison Wright to the team.
Dunlop started as the better side, dominating possession and causing issues down their right hand side.
And the visitors scored with their first half chance of the game, the ball was played out left, Dunlop's winger drove into the box before his shot took a huge deflection, looping over the helpless Andy Whitehouse in the Kenilworth goal.
Wardens had chances to equalize, coming closer from Eamonn Richards' set pieces. Twice Dan Twigger met the ball but missed the target and Scott Pearson met a free header six yards out, but could only hit the post.
Despite Dunlop having the majority of possession, Wardens' direct style was causing Dunlop problems.
On 30 minutes a goal kick was won by Andy Legg, he played a one two with Rudd before hitting the ball out wide to Pearson. Pearson beat two men in the box and squared through the keepers' legs to the onrushing Twigger to pass home from eight yards.
Wardens had chances to take the lead before half time, the closest was a brilliant cross from George Ferridge which could only be directed wide from six yards out by Legg.
The hosts kept the pressure on after the restart, forcing Dunlop to go long with their pressing.
On 55 minutes Ferridge won a free kick 40 yards out. Richards' kick was punched away by the Dunlop keeper, but only into the back of the challenging Pearson. The ball fell to the onrushing Twigger who smashed home with his left foot through a crowd of players.
Wardens looked more likely to add to their lead and did 10 minutes later. A long throw by Patterson was flicked on by Legg and then Twigger, Pearson calmly passed the ball into the bottom corner.
On 70 wardens scored their fourth, a brilliant pass from Twigger set Harrison Wright down the right hand side, his perfect cross was met by Andy Legg, who hammered in from close range. Scoring his first goal since returning from injury.
Wardens had several chances to add a fifth, the best chance falling to Richards whose truly awful shot trickled half a yard wide.
Wardens did score a fifth however on 78 minutes. Pearson picked off a pass 20 yards inside his half, and played a superb through ball to Legg, who muscled past his defender and used his pace to push the ball around the keeper and score from a tight angle. Pearson's third assist of the game and Legg's 10th goal of the year.
Going 5-1 down appeared to wake up Dunlop, who scored on 80 minutes following defensive errors from Wardens. Dunlop had chances several chances in the last 10 minutes but were kept at two by a string of impressive saves by Whitehouse.
"It's nice to get back to winning, especially winning by the biggest margin all year. Dunlop are a good technical side and move the ball around well," player-manager Richards said after the game.
"First 20 Dunlop dominated and we struggled to implement our tactics. Last 25 of the first half we got better at it and at half time when we explained again what I wanted them to do and we implemented it perfectly and Dunlop couldn't handle us.
"Great to have Andy Legg back and looking fit and sharp again, they literally couldn't handle his size, pace or power at the back.
"Pearson and Twigger were brilliant but Rudd was probably the best player on the pitch. Just shows how important these lads are and how difficult it is playing without them."