Kenilworth slump to 75-run defeat at hands of Solihull Blossomfield
---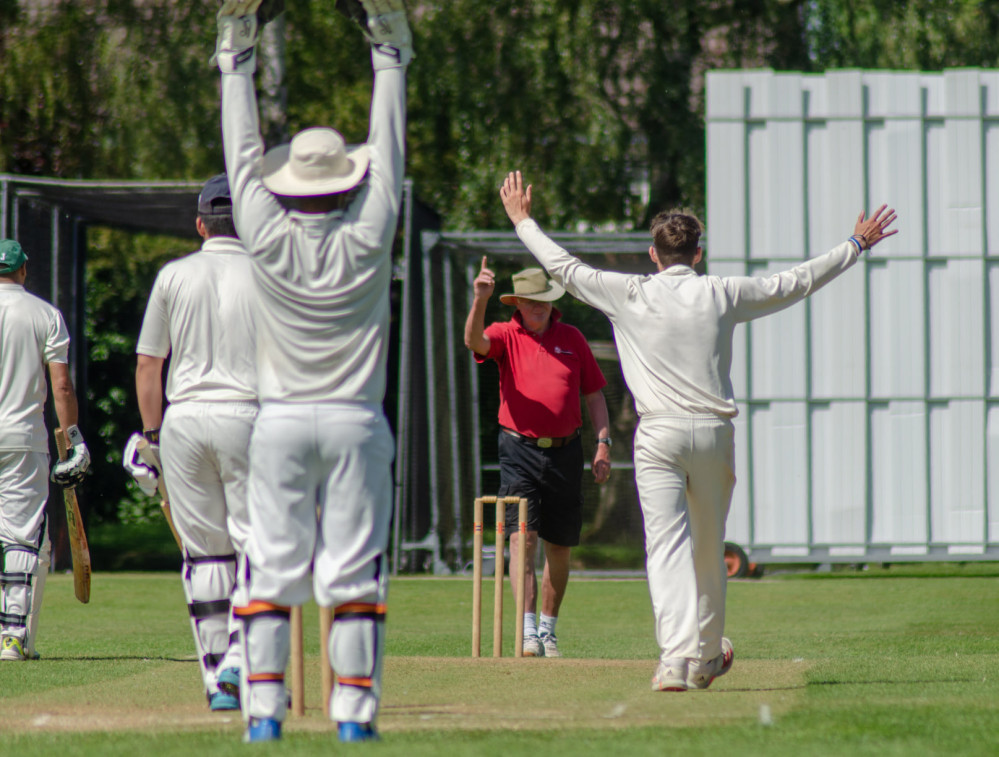 Solilhull Blossomfield 272-9 beat Kenilworth 197-10 by 75 runs (Image via Sam Leach)
Solihull Blossomfield moved into second spot in the Warwickshire County Cricket League Division One table with a comfortable 75-run win at Kenilworth.
They posted 272 for nine in their 50 overs thanks to Edward Thompson hitting a sublime 82 off 69 balls – his half century coming after just 27 balls.
He and Richard Weaver (33) put on 84 runs for the side's fourth wicket.
Naveed Bashir then added 54 and Tim Keyte, at number 10, an unbeaten 25 despite good bowling performances from Town's Stuart Cope who took 4-52 and Connor Shingler 3-43.
Despite Zohaid Zahib hitting 33 and Cope 31, as they shared in a fourth wicket 50-run partnership, the side could not keep up with the required run rate and were bowled out in the 46th over for 197.
Keyte took 4-36 and Bashir 3-35 for the visitors after Shingler had made 24, Imam 21, Booker 18 and Steve Rhodes, as last man standing, 21 not out.
Solilhull Blossomfield 272-9 beat Kenilworth 197-10 by 75 runs.
2nd. XI
Yogesh Narvekar Anker's century was the difference between the two sides as Stockton ran out 51-run winners over KCC's second XI.
He put on 107 runs for the second wicket with Hardeep Ubey (51) as Stockton reached 261 for six.
Kenilworth's Charlie Stranks was the pick of the side's bowlers taking 4-47.
Despite Danny Boneham (42) top scoring for Kenilworth and 41 from Stranks, they fell away and were bowled out in the final over for 210.
Stockton's Raj Kumar took 3-40 whilst there was a brace of wickets for Anand Kale, Narvekar and Vishal Kansara.
Stockton Star 261-6 beat Kenilworth 210-10 by 51 runs.
3rd. XI
Ben Wright steered Lapworth to a well-paced eight-wicket win as he made an unbeaten 82 as they chased down Kenilworth's 150 for five with two overs to spare.
Stephen Kelley and Will Thompson had both each made 27 for the hosts, with Thompson hitting seven boundaries.
Opener Dhruv Vyas made 25 and Andy Dadswell 16 not out in the Town's total.
Lapworth, in reply, put on 72 for their first wicket with Greg Williams making 30 before Wright and Asam Nazam (19) put on a match winning 78 runs to see the side home safely.
Dan Hone and Thompson were Kenilworth's only wicket takers.
Kenilworth 150-5 lost to Lapworth 151-2 by eight wickets.