Up Close With Sarah-Jane Perry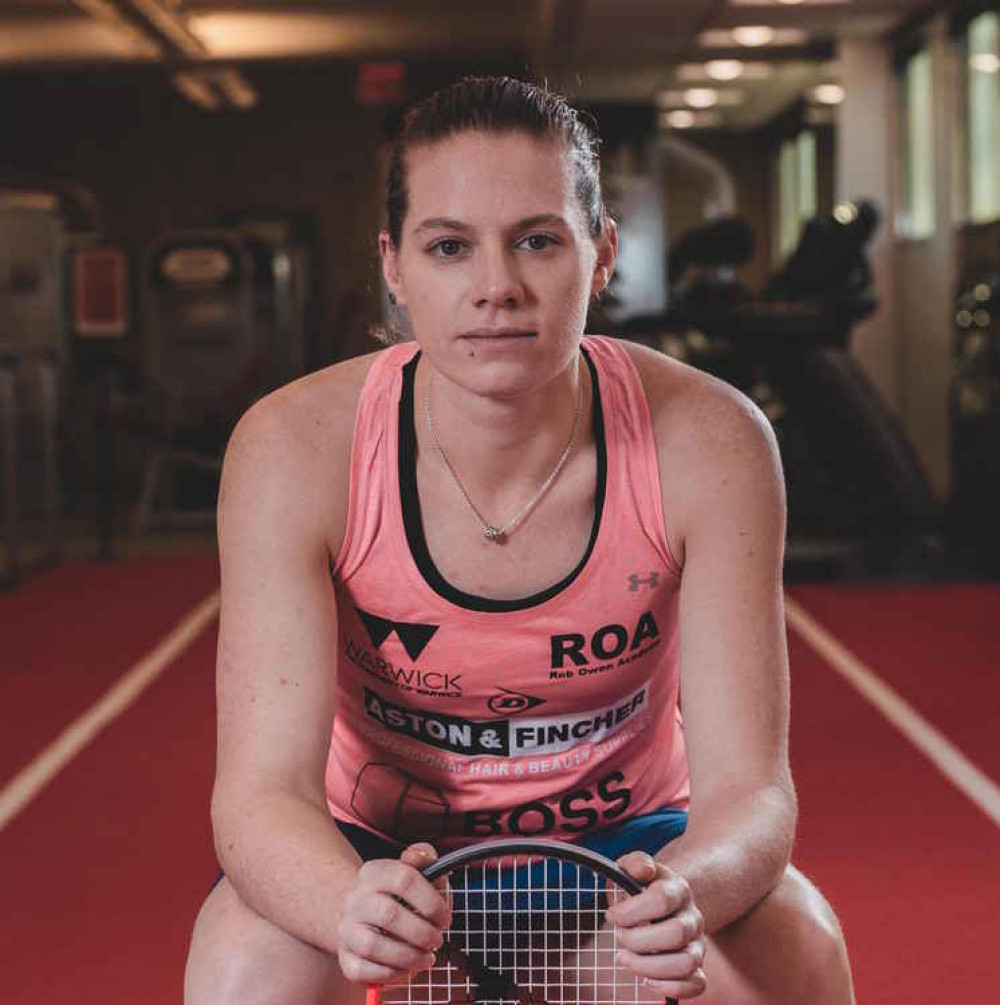 We spoke to Sarah-Jane Perry about her career and life in Kenilworth
Kenilworth Nub News aims to be supportive to every element of the community from businesses, shops, and people, to charities, clubs and sports organisations.
We will be profiling some of these local businesses, and individuals regularly over the coming weeks in a feature called 'Up Close With.'
The next in this series is with Sarah-Jane Perry A quick search on google will bring you a whole host of information about Sarah-Jane Perry. The PSA world number six, a two-time National Champion and the current PSA Women's President. You will also discover that this article is very timely as SJ came from 2-0 down against Hania El Hammamy to win the CIB Black Ball Squash Open, PSA World Tour Gold trophy in Cairo, Egypt yesterday (Decmeber 12). What you will probably find less information about though, is her journey to become one of the best squash players in the world. Kenilworth Nub News asked a her a few questions to delve a bit further into her life and career to date.
Early beginnings
Sarah-Jane was born in Birmingham on 15 May 1990, and lived in Sutton Coldfield until moving to Kenilworth aged eight. "Since then I have lived in Kenilworth," says Sarah-Jane "minus my studies at Warwick University and a brief period living in Tile Hill. I have always gravitated back to Kenilworth as soon as possible and choose to base myself here over other options." Sarah-Jane's involvement in squash had already begun by the time her family moved to Warwickshire, having been taken down to her father's club, Four Oaks, with her twin brother aged five. "My dad used to play squash, tennis and badminton so I have lots of memories of watching him play local league matches, club championships etc. "This definitely sparked my interest in sport and I would watch anything that was on TV as well as playing any sport possible." A couple of years after moving to Kenilworth the twins began to receive sessions at Kenilworth Lawn Tennis and Squash Club on Crackley Lane, from coach Steve Townsend, before entering local tournaments a year later. "I would love to say I fell straight into winning ways but this definitely wasn't the case, it took a few more years before I began to win smaller junior events and challenge the top players in the country of my age." What was clear though, was her appetite for sport, having represented schools at hockey, netball, football, cricket, rounders, athletics, tennis as well as squash. Sarah-Jane's first major success on the court, however came at the age of 18, when she won her British Junior Championships title in the under-19 category, progressing to the European Junior Title in Germany. Needless to say she went on to win that title as well: "my greatest achievement as a junior."
Hobby turns to profession
Despite the success that Sarah-Jane had at the end of her teen years, she was still uncertain whether a career in squash was what she wanted, and so enrolled on an Engineering and Business degree at the University of Warwick. Whilst she did play squash at university, Sarah-Jane actually represented Warwick at hockey more than in squash, and surgery on a recurrent knee problem during her second year kept her off the court. The decision to turn professional didn't come until her final year of studying, having actually been offered a graduate scheme job. "It was certainly the best decision for me as I wasn't mentally or physically ready to train full time at 18. "Overall, I'm extremely glad I chose to do a degree as, not only did I love my time at Warwick, I also have a great degree to help me in my future life post squash career!" Having made the decision to go full time, SJ's first title on the PSA World Tour came at the Manor Open in 2011, having defeated Tania Bailey in a grueling 75 minute long final. She finished that year as the world number 82. More impressive results in 2012 and 2013 propelled her to number 14 before she finally made the top 10 in 2017 – where she has stayed since. Sarah-Jane achieved a career-high of world number five this summer. "I'd been ranked six for a lot of months so breaking into the top five was a big goal of mine. Somehow five sounds a million times better than six!
"I'm not content though and want to see how far I can push myself." During an impressive career to date she has won two British National Championships, in 2015 and 2020, a silver at the 2018 Commonwealth Games as well as the title at World Team Championships in 2014. "My silver medal at the 2018 Commonwealth Games is certainly one of the biggest highlights of my career; as a non Olympic sport, the CWG is the pinnacle and to win a medal representing my country in such a huge event that transcends sport was just incredible."
No place like home
Sarah-Jane has taken great inspiration from a number of sports stars; Steven Gerrard, Roger Federer, Megan Rapinoe, and Naomi Osaka were all mentioned. "Serena Williams has long been a role model for me because she is confident to play her sport in the way she chooses and doesn't let other people's opinions effect her." But for Sarah-Jane, motivation and inspiration has often come from closer to home. As mentioned earlier, SJ is still based in Kenilworth, with her partner and their two cats, but given the nature of professional squash, she can be away for as many as 20 weeks each year. "Its really important I have somewhere to come back to that feels like 'home' and that can only be Kenilworth. "I love living so close to all my family and friends, I can walk to most of their houses in under 10 minutes which is awesome. "I love the local businesses in Kenilworth, you'll likely find me in the Sunam, Coffee on the Corner, Forrest Coffee House or celebrating a special occasion in The Kenilworth!" As well as living in Kenilworth, Sarah-Jane still uses the same local facilities to train in; at Kenilworth Squash Club, West Warwickshire Squash Club, Warwick University, and then The Warwickshire for gym sessions. "I attribute a lot of my success and enjoyment of squash to Steve Townsend, coach at Kenilworth as well as Warwick Uni, who coached me from 10 until 25. "He taught me to play the way I enjoyed, maximise my strengths and ignore others' expectations of me, something I still draw on to this day." And perhaps fittingly, a mural charting her career, unveiled at University of Warwick's Sport and Wellness Hub at the end of 2019, perhaps sumarises her career to date. Great achievements, a clear connection to her local area, as well as looking forward. A very obvious space has been left at the end of the mural, perhaps with Birmingham 2022 in mind. In fact after the unveiling Sarah-Jane said "After getting silver on Gold Coast in 2018, getting that Commonwealth Gold Medal is my main aim for the next few years, "I want to keep pushing on with my world ranking, looking ahead to world number one, and I'm going to do everything I can to fill the space they have left for me at the end of the timeline."