Council objects to plans to build two large houses in garden of Kenilworth Lodge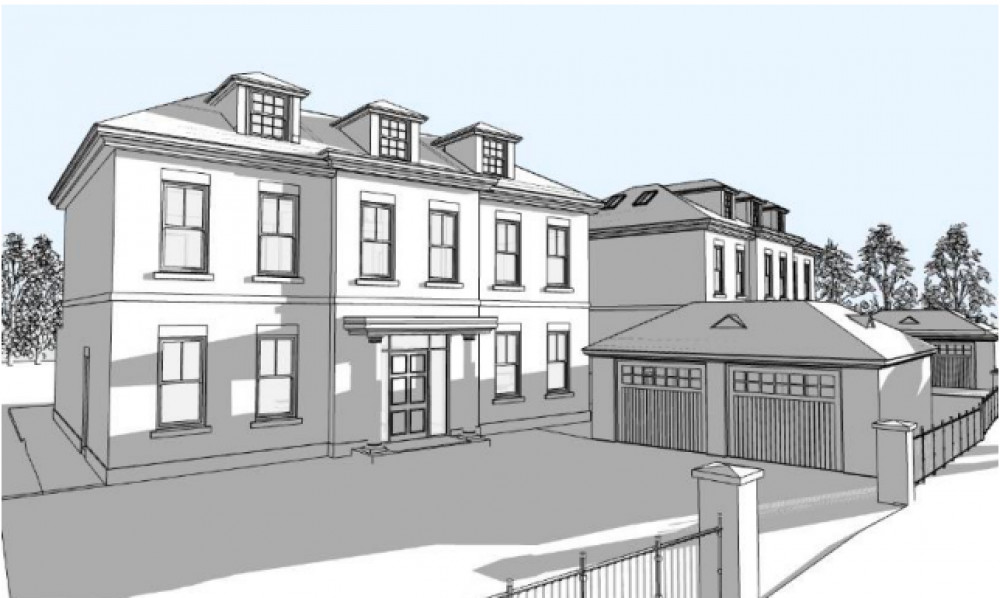 An artist's impression of the proposed houses to be built at Kenilworth Lodge (image via planning application)
The town council has objected to plans to build two, three-storey houses in the grounds of Kenilworth Lodge.
Councillors said the buildings would be too high compared to others nearby, and said the scheme was inappropriate garden development.
Members at last week's Kenilworth Town Council planning committee meeting also pointed to an objection made by Warwickshire County Council's highways department which said the visibility for cars joining Leamington Road from the houses would not good enough.
Speaking at the meeting, Cllr Peter Jones said: "I actually thought the site was ripe for development.
"I have been there before to deliver something years ago and I was amazed at how much room there was, and the run down state it was in; I thought something was going to happen, there was bound to be some development here.
"But it has to be safe obviously."
Plans submitted to Warwick District Council show that two five-bedroom houses, each with a double garage, could be built.
The application says the houses would match the Georgian style of the lodge and added: "Two dwellings are proposed, which will make efficient use of the site, but does not detract from Kenilworth Lodge and leaves ample amenity space for Kenilworth Lodge far in excess are required in the local plan."
But Cllr Michael Coker said the designs were not in keeping with the local area.
"I think also about the height of the buildings," he said.
"They are only in keeping with the lodge, they are not in keeping with everything else thereabouts and therefore it would seem to me that the lodge is already there but every other development adjacent to it is two storey.
"Therefore they are inappropriate."
Cllr John Dearing agreed, saying: "I agree with what has been said and I think we need to be consistent.
"We have objected to garden developments a lot whilst I have been on this committee and I think we should continue.
"I know it is a large space but in a way that space is even more valuable now because it is going to have new residential developments on the other side of it, so it becomes even more important."
He added: "These are really profit maximising houses, in its right place I have got no problem with it, but I think they will be quite unusual in that part of the town."
The application can be seen in full here.
Like this article? Then subscribe to our free weekly newsletter here.