Opinion: Neighbours have used legal loophole to ruin where we live and destroy wildlife haven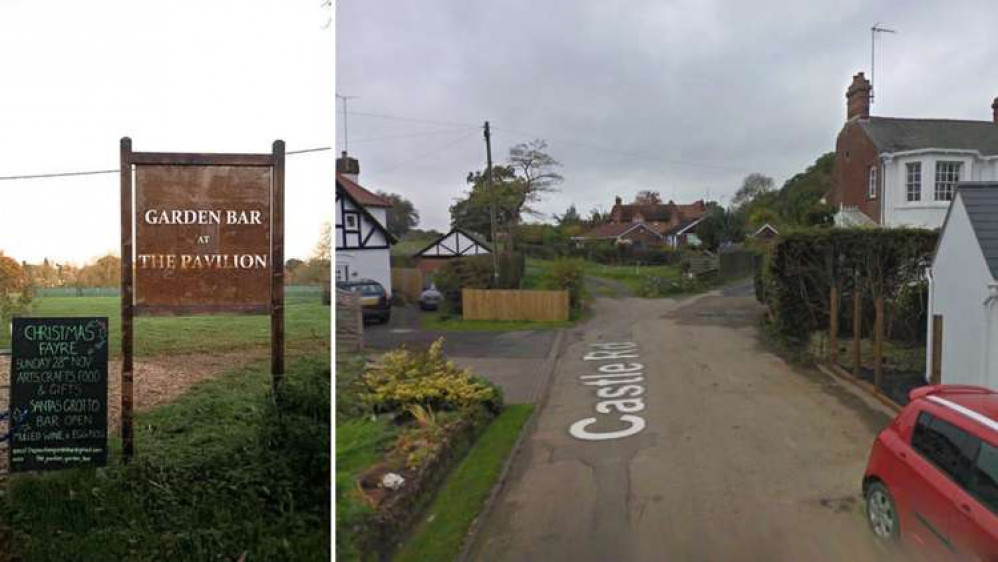 Residents have spoken out about the Garden Bar at the Pavilion (Image right by google.maps)
Kenilworth resident Adam Matthews shares his view on the Garden Bar at the Pavilion and the recent planning and licensing debate.
I am very fortunate to live where I do in Kenilworth. My garden backs onto a small piece of land, for which the only permitted use is grazing.
There are horses and sheep within view on the farm beyond the fence and there used to be a wide variety of wildlife everywhere you looked.
However, today is Sunday and I sit in my lounge facing a car park on that pretty piece of land with tens of people stopping just beyond my garden fence to have a good look into my house.
That's because today marks another in a long line of events held at The Garden Pavilion Bar, a drinks and events business which has been started without any consultation with local residents and without any regard for local wildlife whatsoever.
Planning permission has been sought by the owners of the land several times and it's always been rejected for many reasons, centred around the fact that it is directly adjacent to Kenilworth Castle, the farm, other residents (including elderly and children) and a conservation area.
Until last summer there have only ever been applications to build property here, but in the absence of permission the bar owners have now found a loophole in council legislation which allows people to apply for a Temporary Events Notice (TEN).
The council cannot reject this application unless there is an objection from the police or environmental health.
The TEN means that an event of any kind can be held, despite the plethora of rationale the council used to reject use beyond grazing.
Now, the Pavilion Bar can invite hundreds of people and cars to attend anything from escape room events with people using megaphones all day, to bouncy castle events with huge noisy diesel generators flooding gardens and woodland with fumes, to open air nightclub events running late into the night with pumping music, bonfires and screaming drinking teenagers.
You can imagine the effect that this has on not only our lives in this quiet corner, but also on the farm animals and wildlife that used to live in the adjacent woodland.
What was once a thriving ecosystem is often now soaked in smoke for days after events and any life that didn't flee the noise can barely take a clean breath of air.
Until recently the local residents have had no voice.
The council simply can't respond because of the rules around the TEN, so we have had to sit by whilst the owners of the bar erect signs around us and use advertising and social media campaigns to attract more traffic.
They are now claiming a witch hunt, asking people to sign an online survey saying they support the bar, which many are doing because they've enjoyed attending an event.
I must admit, if I didn't live here I may have enjoyed an event or two myself, but I implore everyone reading this to take a small step back and imagine a less biased, less redundant survey, which didn't commit the cardinal sin of purely seeking positive feedback.
Imagine it also asked whether you would like this business directly behind your children's or grandparent's house every week; whether we need yet another place to drink alcohol in Kenilworth; whether it is fair to play loud music late into the night near people and animals; whether such a place should be able to devastate local wildlife with cars and smoke and noise; whether a business that would not be permitted, other than for a loophole, should be allowed anywhere in our town.
It is important those questions are asked and I genuinely feel that the answer from most people would be a resounding 'no'.
Ultimately I applaud the support of local food vans and community activities, which seems to be the foundation on which the owners support is requested.
However, there is a huge park only a few hundred yards away in which they could easily run the same events without affecting the voiceless few that live on this quiet patch of grazing land.
We as a small local community, both people and wildlife, humbly ask that Kenilworth, both people and council, choose to support our livelihoods over the profits of business which appears well founded in concept, but is incredibly invasive in practice.
Because of a strange loophole and our lack of resource to campaign with social media and advertising we are left seemingly without a vote.
Please help us to save our homes and this peaceful wildlife habitat. Take a moment to ask yourselves the questions above and choose to voice your support for us.
More Kenilworth news stories:
- Kenilworth estate agent predicts new year surge for local property market
-
December update for HS2 works near Kenilworth: More night works planned
- Police appeal for witnesses to A46 crash as driver fails to stop after eight-vehicle pile up