Outgoing cabinet member accused of swearing at fellow councillor and former party colleague
By Andy Mitchell - Local Democracy Reporter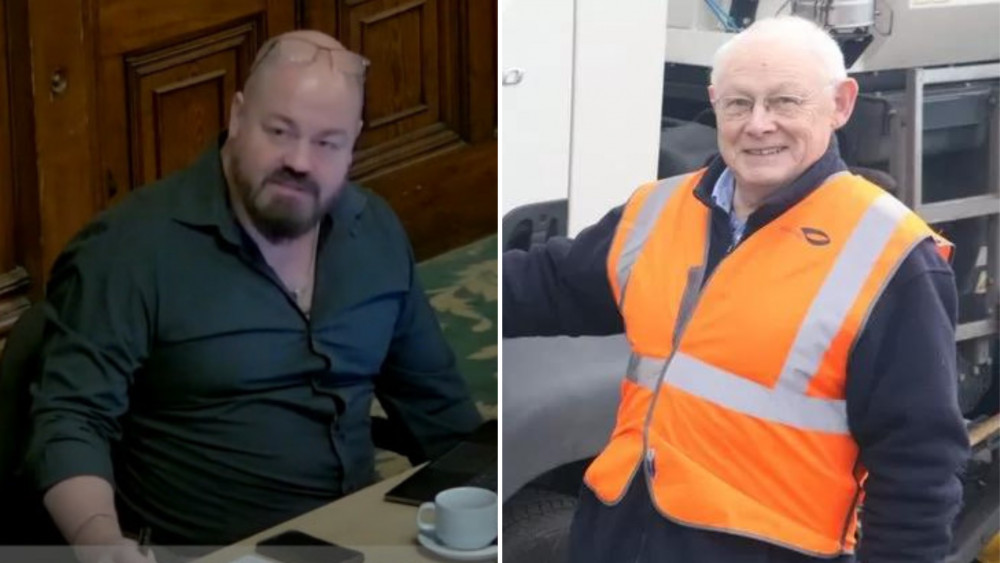 Cllr David Norris (left) accused Cllr Alan Rhead of swearing at him during a Warwick District Council meeting (image via Warwick District Council and Youtube)
One of Warwick District Council's most senior members has been accused of muttering profanity towards a fellow councillor – just as he prepares to step down.
Conservative Cllr Alan Rhead, the district's portfolio holder for climate change, confirmed on Wednesday that his 16 years as a councillor would end when the local elections are contested in May.
However, there was one last sting in the tail during questions for portfolio holders in the authority's final full council meeting of the municipal year.
Cllr David Norris - who last year left the Tory group to become independent - opened his questioning of Cllr Rhead's record with: "Last week, when I asked you questions – and I am trying to be professional about it – you did swear, defamatory (remarks) under your breath to me.
"I won't dwell on that but respect, I have not experienced it for whatever reason. I thought it was a bit disrespectful.
"You said you were going to give us a programme of stuff that we have achieved, I have seen lots of pats on the back, stuff that you've done and areas you have addressed.
"DPD (the council's development plan document in relation to climate change and sustainable buildings) is really positive, (so is) listed building support as to anti-mould in some of the housing, but I would like to understand what you have achieved on the carbon neutrality side."
Cllr Norris later commented that funding for research on hydrogen hub plans "would have been better targeted at insulating poorer households and areas where we can actually make an instant impact".
He added: "Over the past four years, I have not really seen a great deal of reduction in carbon."
Cllr Rhead did not address the allegations in his reply.
He said: "The last time Cllr Norris asked me a question, I asked him to send me an email so I could respond in detail. I never got the email, unfortunately.
"I think it is best to just say we are not involved in hydrogen other than as a developer of hydrogen. If you would like to send me your question by email I will give you a detailed answer."
Cllr Norris followed up with: "I am asking what quick-win things, low-hanging branches, that we achieved as projects and what was, as a result, the carbon neutrality on that.
"It is better to have these (questions) publicly because I often end up sending emails and nobody addresses them."
When asked if he wished to respond, Cllr Rhead replied: "No, I shall wait for the email."
Cllr Norris retorted: "Of course you will."
Earlier, Cllr Rhead had reflected on recent meetings in relation to the DPD, stating an inspector had "no major concerns that are insurmountable, although he did seem to hint at modifications being required which would require further consultation". He also detailed that Coventry University had "expressed an interest in working with us" on emerging hydrogen proposals.
Cllr Rhead had commented on his exit prior to Cllr Norris's remarks.
He said: "I would like to thank members past and present for the courtesy they have all given me.
"I would also like to thank the chief executive, the deputy chief executive and all of the officers who I have dealt with over 16 years.
"I have found it very pleasant, sometimes frustrating, but mainly pleasant, so I thank you all."