HS2 says plans for 425-metre viaduct in Balsall Common have taken local views into account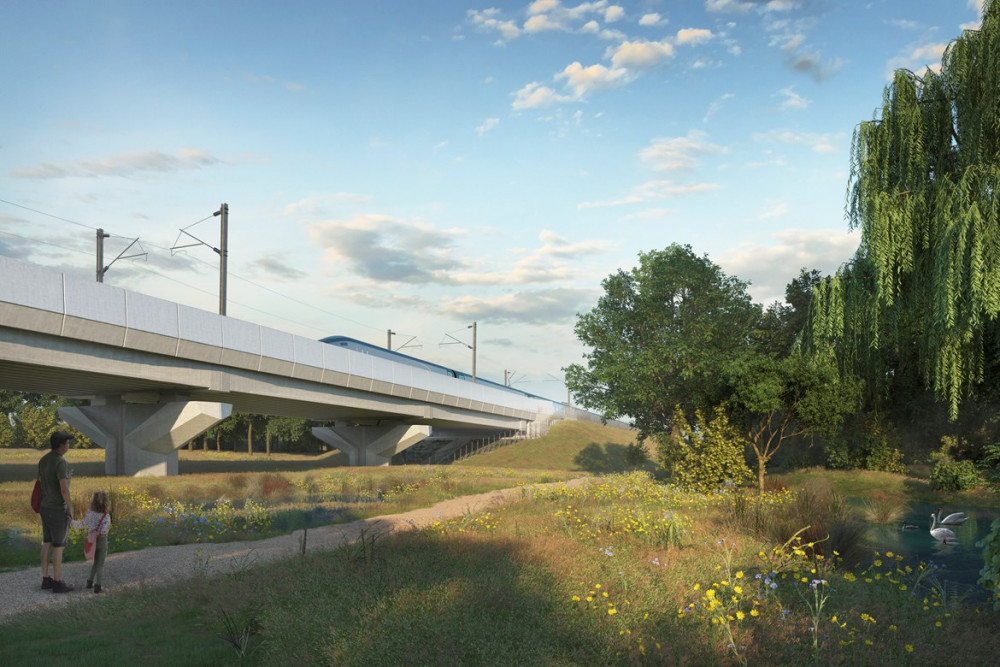 An artist's impression of HS2's planned viaduct through Balsall Common (image via HS2)
HS2 says it has "incorporated feedback" from residents in its plans to build a 425-metre viaduct in Balsall Common.
The high speed rail developer has recently submitted a proposal to Solihull Metropolitan Borough Council, and says the designs were changed to reflect local opinion on environmental sustainability, the landscape, appearance and public access.
Contractor Balfour Beatty VINCI has engaged with residents after releasing images of the proposed structure in July last year.
Locals have continued to voice their concerns about the impact on the local area both during construction and after.
HS2 Ltd's senior project manager for Balsall Common, Alan Payne said: "Over the last couple of years, we've worked closely with the community and local councillors to incorporate their feedback on Balsall Common Viaduct as much as possible.
"We're confident that our plans respect and enhance the local history and natural environment of the area, and will provide new green areas for people and wildlife to enjoy.
"The HS2 project supports nearly 30,000 jobs - of which nearly 9,000 are employed in the West Midlands, with local businesses across the region benefitting from supply chain contracts.
"Once complete, HS2 will transform journeys across the UK, help boost the economy and provide extra capacity on the existing rail network."
Revised plans include wet woodland planting using native species and the embankment along Bayleys Brook will now be 75 metres shorter than planned.
However the brook will still need to be realigned.
To "improve connections", the Kenilworth Greenway will be extended to Station Road on the south-eastern side of the existing railway line and a further extension towards Lavender Hall is currently under consideration.
Options for cycling and bridleway extensions are also being considered.
Shaun Ruffles, landscape architecture director from HS2's Design Joint Venture said: "The finalised design for the Balsall Common Viaduct has been driven by its context and responds directly to it.
"The concept of 'reflect and reveal' has been key to this, with views of the viaduct revealed and filtered by the mature oak trees in the wider historic landscape.
"The viaduct is further integrated through its reflection in local water features and in the polished acoustic parapets which will reflect the skyline, lightening the structure further."
BBV will construct a total of 16 piers to carry the viaduct 10 metres above ground, crossing over Station Road, Bayleys Brook, Heart of England Way Walk and the local floodplain.
"Responding to feedback about the look of the viaduct", a section at Station Road will be finished with a bespoke pattern, referencing the local history of the area.
People can register to attend an event on Thursday 16 February at Balsall Common Village Hall to view the latest plans and talk to the team: www.hs2.org.uk/balsall-common