Family-run Kenilworth cleaning business uses funding to buy 3.5 tonne truck and expand its offering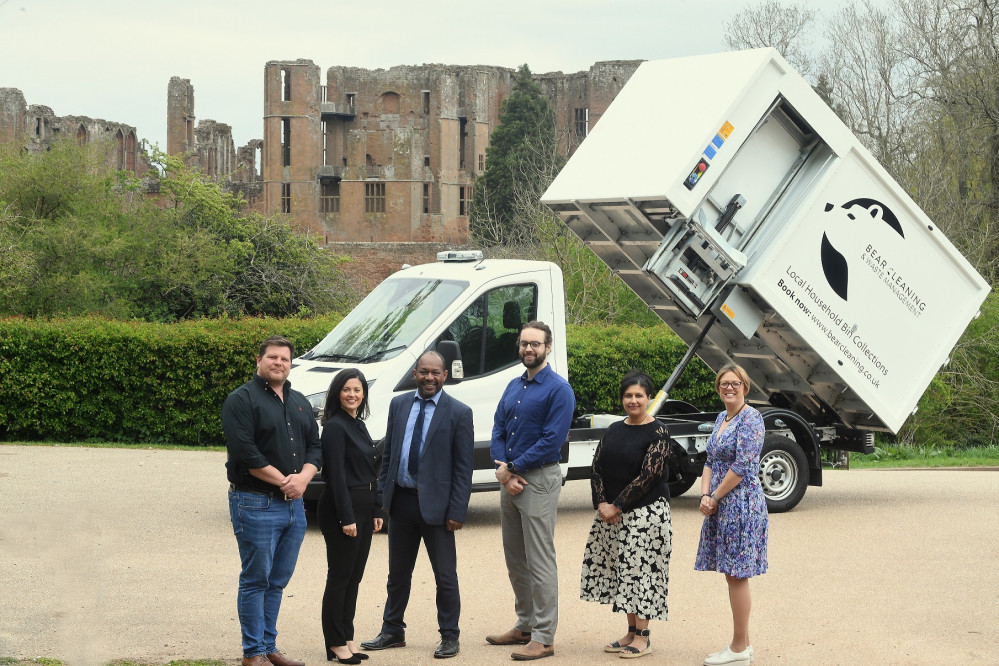 From left - Ted and Kate Hunter (Bear Cleaning), Martin Nwangwa (CWLEP Growth Hub), Alexander Vill (CWRT), Cllr Kam Kaur (Warwickshire County Council) and Sarah Windrum (CWLEP)
A family-run cleaning business in Kenilworth has secured nearly £60,000 in funding to expand its services.
Bear Cleaning has used the money to buy a 3.5 tonne truck to start regular waste collections for its customers.
The company was launched by former Warwickshire police officer Ted Hunter and his wife, Kate, a former social worker, in Kenilworth in 2017.
It focuses on cleaning roofs, driveways, patios, gutters and wheelie bins for homes as well as providing jet washing and other services for businesses.
But Ted spotted an opportunity to expand the services provided by local councils and increase the range of waste collection options for customers.
Having been referred to the £5.9million Duplex Investment Fund by chair of Coventry and Warwickshire Local Enterprise Partnership Sarah Windrum and CWLEP Growth Hub, Kate successfully applied for a £41,500 loan and £16,600 grant.
The Coventry and Warwickshire-wide scheme is jointly managed by CWLEP, CWRT, Warwickshire County Council and Coventry City Council.
She said: "It was great to meet Sarah Windrum and she was really encouraging about our plans for the business.
"We have three members of staff and we are currently recruiting for a fourth because we are really busy and want to continue growing because we have loads of enquiries coming in and we have built some great relationships with our clients.
"Ted spotted a gap in the market for householders who may want more regular collections.
"I carried out a lot of detailed market research and realised we needed to buy a small truck – similar to the type you see with a cage picking up litter bags in parks – so I got in touch with the growth hub and then CWRT to apply for the Duplex Investment Fund.
"We now have our new vehicle and we're ready to go. There was a lot of information and due diligence required but it really helped to formalise our business plans and we are really grateful to have received this valuable funding."
Alexander Vill, of CWRT, added: "Bear Cleaning's submission was one of the most comprehensive we have received for the Duplex Investment Fund and Kate had certainly carried out in-depth market research including the Environment Act which became law last year.
"Recycling and disposing of waste responsibly are really important and buying the truck will enable the business to take their firm to the next level."
Sarah Windrum, Chair at CWLEP, added: "When I met Kate, I was struck by her enthusiasm and it was clear there was a great deal of potential for growth.
"One of the main objectives of CWLEP is to boost our area's economy which means creating the right environment for innovation and enterprise to flourish, and Bear Cleaning highlights that."