Bad Vibrations Community Choir
---
Abbey Hill United Reformed Church
UNTIL Tuesday 3rd October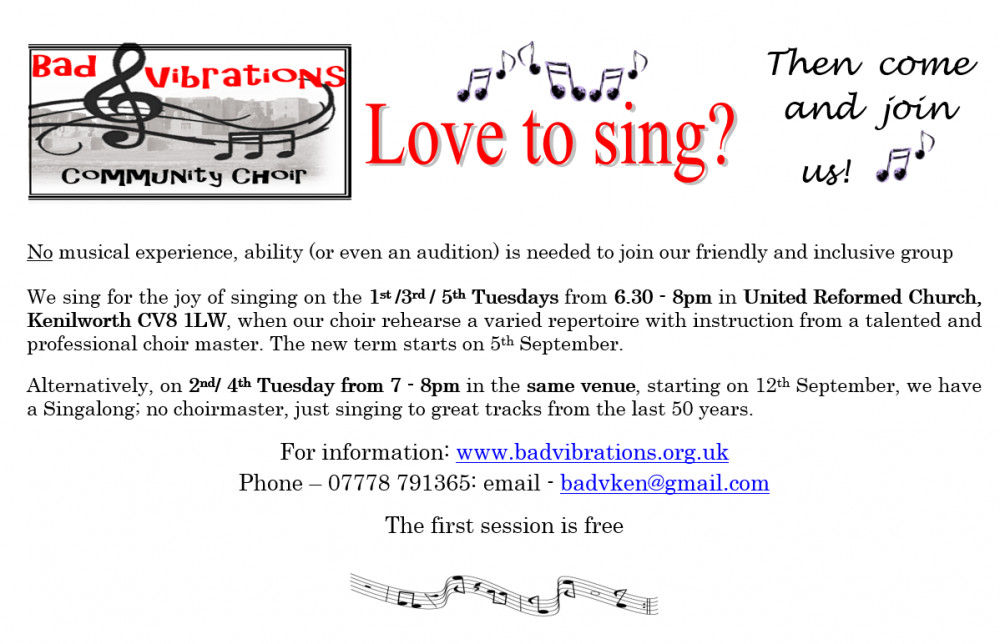 If you love to sing but haven't sung in a choir, don't read music or just feel you can't hold a tune – you're in the right place! But if you can do any of that then great, you can help the rest of us.
Our Choir was formed in 2017 by Robin and Sarah. Their vision was to create a choir for people who aren't confident enough to join a 'proper' choir - where people can meet, enjoy singing and develop their confidence among friends. The emphasis is on having fun, and learning at your own pace.
The choir meet every Tuesday in the Abbey Hill United Reformed Church, Abbey Hill, Kenilworth CV8 1LW. Weeks 1, 3 and 5 of each month are led by our choirmaster Seb, who enthusiastically teaches us new songs and tries to impart musical knowledge to us from 6.30 pm to 8.00 pm. There is parking at the Church (approached from Abbey Hill and Church Drive) and the Abbey Club next door have kindly allowed overflow parking at the lower end of their car park, which is approached via Priory Road.
In between, weeks 2 and 4 are the more informal 'sing-along' sessions from 7pm to 8pm, led by Andy and Christine. You can try one session of each free, then either come to both, or whichever style of singing suits you best. We ask a £10 annual membership fee, due in September (£5 if joining after March) then only pay when you attend.
When you try a Seb session please don't be daunted by it. Some of the songs we sing with Seb are old favourites that we've been practising for a while and may even sound quite good by now! We will provide you with music and help you through your first session. We start a new song every few months, and then we'll be in it together learning it from scratch.
We really hope that after your free introductory session/s you will decide to join us.
Kind Regards your BVCC committee - Andy, Christine, Ian, John, Kate, Mary, Pam, Sarah.
Contact us: Email: [email protected], Tel: 07778 791 365
Website: www.badvibrations.org.uk Facebook: Bad Vibrations Community Choir – Kenilworth
Add your Kenilworth event for FREE here!
Nub It