Councillors and Officers invited to "get on their bikes" to celebrate Gear Change
---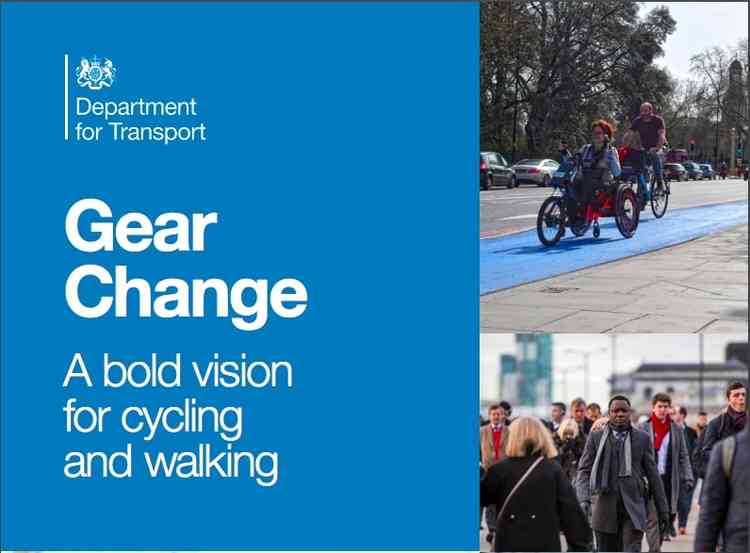 'Gear Change: A bold vision for cycling and walking' is the latest government proposal aiming to increase the number of people on two wheels
To celebrate the Government's publication of 'Gear Change: A bold vision for cycling and walking', local councillors and officers have been invited to join a short cycle on October 6.
Invitations for the short ride around the district have been extended by Cycleways, Clean Air for Leamington and Clean Air Warwick.
Gear Change, the government's latest report on how to increase the number of people cycling and walking in the UK, says "All designers of cycle schemes must experience the roads as a cyclist."
So the event has been organised to give the responsible councillors and officers the direct experience of the state of local cycling infrastructure that they will need as they implement the proposals in Gear Change.
Susan Rasmussen, the Mayor of Royal Leamington Spa and member of Clean Air For Leamington Spa said "Our district suffers from poor air quality, something we all want to see improved.
"As the Prime Minister says in the foreword to Gear Change 'clean air will be to the 21st century what clean water was to the 19th'.
"Traffic is the biggest cause of air pollution in our District; vast numbers of car journeys are very short and could easily be made by bicycle,' but locally the take up of cycling is inhibited by the lack of safe cycling infrastructure linking our homes, schools and workplaces.
"Warwickshire County Council, Warwick District Council and all local Town Councils have declared Climate Emergencies. The shift to active modes of transport that the Government sees as essential in urban areas will not only improve air quality but have a significant impact on our carbon footprint"
As well as environmental benefits, cycling brings clear health and economic benefits which are illustrated in the report.
Gear Change also lays out a bold, positive vision for cycling, supported by a new inspectorate which will hold local authorities to account for the delivery of high quality cycling infrastructure.
Riders will assemble at Leamington Town Hall at 11:00am on October 6.
They will be led by the Mayor of Royal Leamington Spa on a route of around seven miles which should take around an hour as there will be some stops to discuss various points on the way.
Those interested in attending will find more details by following this link