Green Party claims Park Hill from Conservatives whilst Tories hold other two Kenilworth seats at county council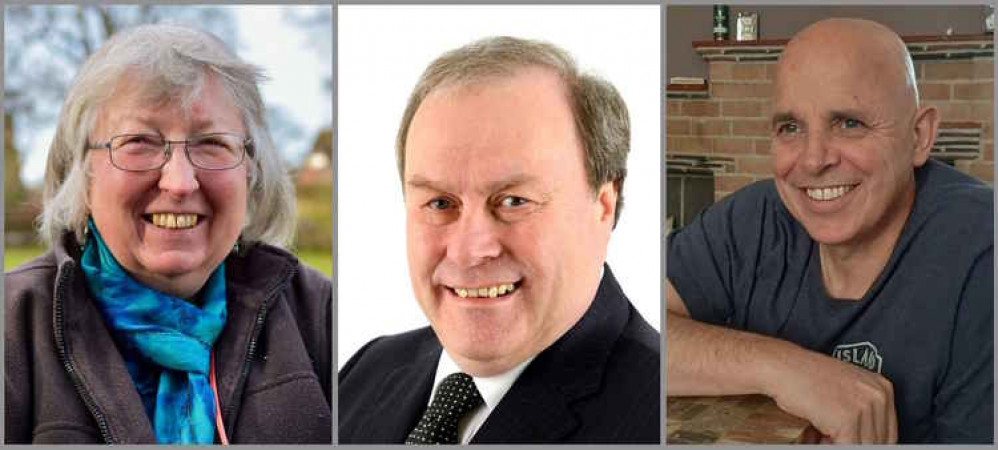 Cllr Tracey Drew (left), Cllr John Cooke (centre), and Cllr Richard Spencer (right)
The Green Party has taken the Kenilworth Park Hill Ward at the Warwickshire County Council elections today, meaning that the Conservatives no longer control all three Kenilworth seats.
The Conservative party had held all three Kenilworth seats at county level following the 2017 election.
Tracey Drew received 1,983 votes for the Greens in Park Hill, beating Conservative candidate Andy Metcalf who took 1,153.
The Conservatives did however retain both the Lapworth and West Kenilworth, and Kenilworth St John's seats.
John Cooke was re-elected for Lapworth and West Kenilworth - he first took the seat in 2017.
Richard Spencer has been elected for the first time today, taking the Kenilworth St John's seat for the Conservatives.
The results for all three wards can be seen below.
Lapworth and West Kenilworth
John Cooke, Conservative - 1,450
John Watson, Green - 606
Sue Gallagher, Independent - 411
Robert Eason, Liberal Democrats - 309
Nicholas Hoten, Labour, 283
Kenilworth Park Hill
Tracey Drew, Green - 1,983
Andy Metcalf, Conservative - 1,153
Samantha Cooke, Liberal Democrats - 225
Jeremy Eastaugh, Labour - 223
Kenilworth St John's
Richard Spencer, Conservative -1,513
Adrian Marsh, Liberal Democrats - 1,195
Wendy Edwards, Green - 504
Jane Green, Labour - 477
Wayne Harris, Social Democratic Party - 57